---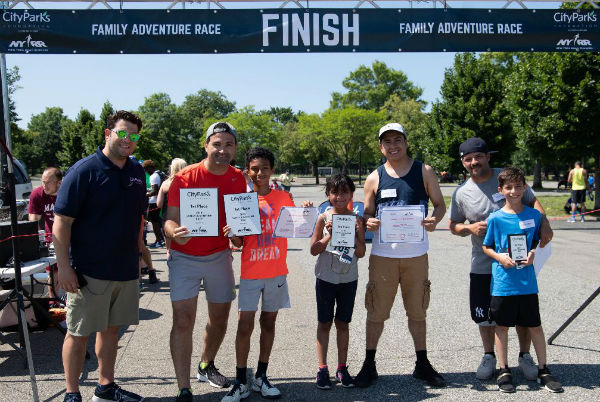 City Parks Foundation's "Family Adventure Race" is an exciting, parent-child race that incorporates basic exercises and sports skills, and provides a healthy, one-hour dose of fun for parents and youth aged 7-12. The second of the 2019 races will take place on Saturday, July 27 in Inwood Hill Park in Manhattan, followed by Saturday, August 10 in Crotona Park in the Bronx, on a timed course featuring 12 activity stations. Team members must properly perform the required exercise or task together before advancing to the next station and final run to the finish line. Activities include javelin throw, jump rope, hurdles, a mini-climbing wall and more.  Awards will be given to the top three finishers in each race.  All participants who finish the race will receive a medal. Registration in advance is encouraged and walk-ups are welcome. Each park will feature two races at 9 am and 10 am.
Race Dates & Locations:
Saturday, July 27
Race Times:
9:00 a.m. / Race start time
10:00 a.m. / Race start time
TO REGISTER: Free registration is required.
Team must include one parent or guardian and up to two children (open to ages 8-12).
For more information, call (718) 760-6999 or email Sports@CityParksFoundation.org
Through City Parks Foundation and New York Road Runners' (NYRR) partnership, the Family Adventure Race series will return to New York City for a fourth year. The three parks selected to host this year's Family Adventure Races were chosen from a roster of NYRR Open Run Parks. NYRR Open Runs are NYRR's free, weekly running and walking program, which brings active recreational programming to 16 neighborhood parks across the city.
At City Parks Foundation, we are dedicated to invigorating and transforming parks into dynamic, vibrant centers of urban life through sports, arts, community building and education programs for all New Yorkers.  Celebrating our 30th anniversary this year, we program in more than 400 parks, recreation centers and public schools across New York City and reach 300,000 people each year. Our ethos is simple: thriving parks mean thriving communities.
NYRR's mission is to help and inspire people through running. Since 1958, New York Road Runners has grown from a local running club to the world's premier community running organization. NYRR's commitment to New York City's five boroughs features races, community events, free youth running initiatives and school programs, the NYRRRUNCENTER featuring the New Balance Run Hub, and training resources that provide hundreds of thousands of people each year, from children to seniors, with the motivation, know-how, and opportunity to Run for Life. NYRR's premier event, and the largest marathon in the world, is the TCS New York City Marathon. Held annually on the first Sunday in November, the race features 50,000 runners, from the world's top professional athletes to a vast range of competitive, recreational, and charity runners.  To learn more, visit www.nyrr.org.
Photo credit: Participants from the July 13 Family Adventure Races in Flushing Meadows Corona Park. By Merissa Blitz / Courtesy of City Parks Foundation.
---