---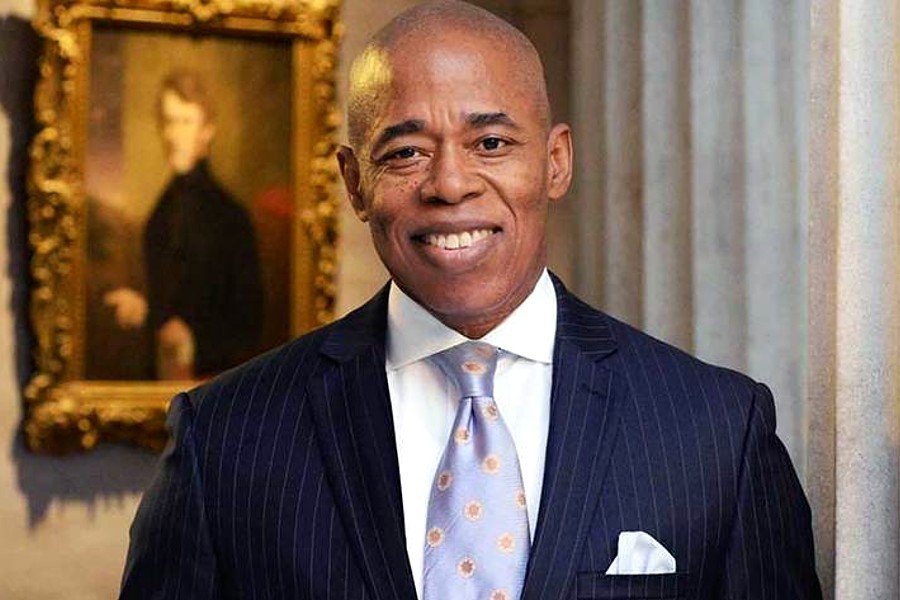 New York City Mayor Eric Adams today announced additional policies to help asylum seekers in the city's care take the next steps in their journeys.
As the current surge at the border and additional bussing from the State of Texas results in an unsustainable spike of migrants arriving in New York City seeking shelter. The city has made every effort to continue serving the more than 126,700 asylum seekers who have arrived in New York City since last spring but with an average of approximately 600 people arriving daily in the last week and over 64,100 migrants still currently in the city's care, New York City is full and past its breaking point — having responded to this humanitarian crisis without the level of support needed from other levels of government to manage this national crisis.
As the city still seeks further and timely support from federal and state partners, it will begin providing 60 days notice to families with children seeking asylum to find alternative housing along with intensified casework services to help them explore other housing options and take the next steps in their journeys. Each household given notice will have multiple touchpoints with case workers over their 60 days to discuss their options and plan their next steps. This announcement builds on the city's work giving 30-day and 60-day notices to adults and providing intensified casework services.
Additionally, the city announced that Floyd Bennett Field will open in the coming weeks to serve families with children seeking asylum in a semi-congregate setting. Privacy dividers with locks will be installed to provide approximately 500 families with children a place to stay.
As cities and states across the nation continue to see an unsustainable surge in migrants, just this week, Illinois Governor J.B. Pritzker joined the calls of Mayor Adams, New York Governor Kathy Hochul, Massachusetts Governor Maura Healey, and others for a national solution to this national crisis. In response, the White House cited New York's "best practices" put in place to deal with the asylum seeker crisis.
"For over a year, New York City has led the response to this national crisis, but significant additional resources, coordination, and support are needed from all levels of government. With over 64,100 asylum seekers still in the city's care, and thousands more migrants arriving every week, expanding this policy to all asylum seekers in our care is the only way to help migrants take the next steps on their journeys," said Mayor Adams. "This step builds on our work providing notices and intensified casework services to adults in the city's care to help them move to alternative housing. We appreciate the White House citing our 'best practices' as other cities also deal with this crisis, but with the current surge we're seeing, a comprehensive, coordinated effort from the federal government to decompress the pressure New York City is under is needed now."
"As we continue to respond to this ongoing humanitarian crisis and manage this unprecedented surge, we must continue implementing new strategies to relieve the pressure on our shelter system," said Deputy Mayor for Health and Human Services Anne Williams-Isom. "Providing time-specific notices to families paired with intensive and sustained case management will help us resettle people more quickly helping them on their journey to independence and providing some relief to our already strained emergency housing system. Without additional support from our federal partners, we have to use all of the tools available to us to manage this humanitarian crisis."
"Our mission is to help asylum seekers complete their journeys and find a better life for themselves and their children," said Ted Long, MD, MHS, senior vice president, of Ambulatory Care and Population Health, NYC Health + Hospitals. "Throughout this crisis, New York City has proudly helped over 126,700 asylum seekers, and with our help nearly half have taken the next step in their journey and left our city system. In the future, case management will be a cornerstone of our response, giving us the ability to provide targeted support to help asylum seekers and their families resettle. This will ensure we continue to deliver life-changing assistance for the thousands of asylum seekers from around the world who turned to us for help."
Since this humanitarian crisis began, the city has taken fast and urgent action, already opening over 210 emergency shelters, including 17 total large-scale humanitarian relief centers; standing up navigation centers to connect asylum seekers with critical resources; enrolling thousands of children in public schools through Project Open Arms; launching the Asylum Application Help Center to help thousands of migrants with their asylum applications; and more. Earlier this spring, the city released "The Road Forward: A Blueprint to Address New York City's Response to the Asylum Seeker Crisis," detailing how the city will continue to manage the influx of asylum seekers and advocate for support from federal and state partners.
---