---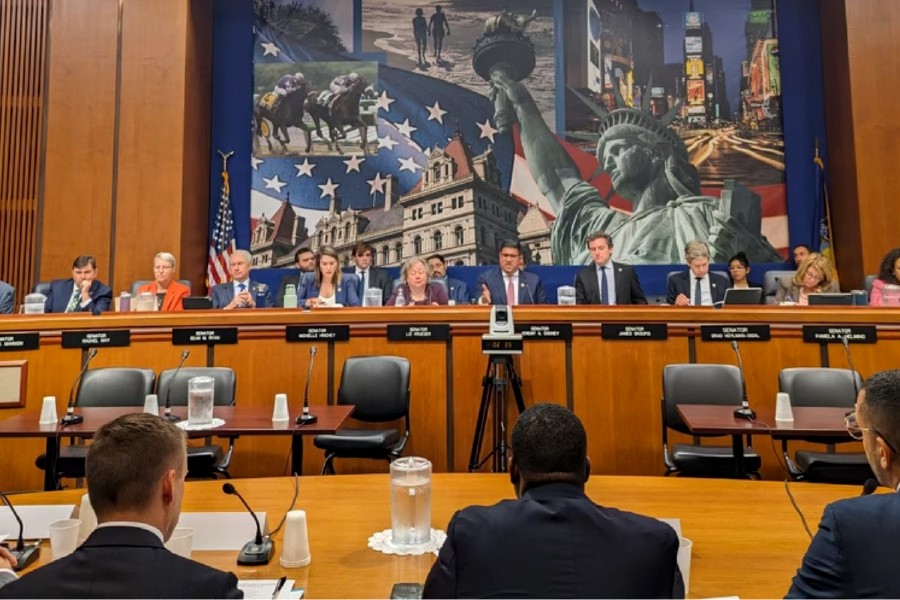 On October 31st, 2023, Chris Alexander, Executive Director of the NY State Office of Cannabis Management testified in front of The NY State Senate Subcommittee on Cannabis.
This was their first-ever public hearing to deliver updates on ongoing priorities and concerns. 
During the hearing, Alexander and OCM staff provided insights into the state's budding legal cannabis industry and highlighted several key topics that demonstrated the New York State's commitment to building a fair, inclusive and successful cannabis market. Alexander was joined by Dan Haughney, OCM's Director of Enforcement, Damian Fagon, OCM's Chief Equity Officer, Patrick McKeage, OCM's First Deputy Director, and Linda Baldwin, OCM's General Counsel. 
"Today, we have 27 operational retail businesses across the state. Those business are carrying an average of 300 unique cannabis products across a variety of product types including flower products, beverages, edibles, and tinctures. New York's consumers have strongly supported the legal cannabis businesses in their communities," said Chris Alexander, Executive Director of the New York State Office of Cannabis Management. "It is likely that by the end of the year, New York will boast heavy representation among the top performing dispensaries in the country. This is a byproduct of strong consumer demand, but it is also indicative of the willingness of New Yorkers to support the broader mission that New York cannabis has committed itself to." 
Excerpts from Alexander's Remarks as Prepared Below:
"Our small farmers … are struggling."
"While we see clearly what New York cannabis will be, we still have a long way to go before we can claim that the supply chain is functioning as intended. Our small farmers, as you know and as I have already stated, are struggling. We need more retail shelves for their product, and we are working to make that a reality. But we are also committed to learning from this moment and providing more stability to an already volatile industry. That is why we intend to work to expand our successful Growers Showcases and support farmers hardest hit by the slow rollout of retail stores. 
"Our farmers are also being transitioned currently to either micro or mixed light licenses allowing them to have more grow cycles and access to the retail business, should they choose to pursue the micro licenses. The Office will be launching the distressed farmer transition program in the coming weeks to support our small farmers as they expand their businesses.
"Equity is the foundation of this market and support programs like the distressed farmer transition program are crucial to ensuring the success of those diverse operators we hope will succeed here.
"Since legalization, New Yorkers have had to deal with a proliferation of illegal cannabis businesses. Our story is not unique, but our problem is expansive. These businesses are not selling product grown by our small farmers, they are not run by equity entrepreneurs, and they are not contributing to the betterment of the communities in which they operate.  
"…drive these illicit operations out of business…"
"The OCM Enforcement Team has prioritized working to shut down these illegal businesses and has now conducted investigations in every region of the state. Over the last several months, we have conducted almost 300 regulatory inspections and seized close to 10,000 pounds of illicit cannabis with an approximate value of $50 million dollars. But those numbers are only a small segment of the enforcement activity that our Team has engaged in because they do not count the work that has been done educating and empowering local governments and law enforcement entities to act as a force multiplier in this effort. In recent weeks, we have leaned into the education effort and have worked to expand the coalition of entities working to drive these illicit operations out of business including broader collaboration with the Department of Labor and the real estate community.  
"We are thankful for the additional powers that the Legislature and the Governor provided OCM to expand our ability to enforce the Cannabis Law earlier this year. We have developed regulations to govern our administrative hearings through which fines are sought and levied against unlicensed cannabis businesses, and continued to fine-tune the administrative hearing process over the last few months to reduce inefficiencies and increase efficacy which has proven to be challenging." 
In the subsequent conversations, OCM highlighted a deep and unwavering commitment to identifying and curbing illegal, unlicensed operations in the state. Alexander and Haughney provided a detailed overview of the proactive measures and tactics being employed to detect and shut down these illegal entities, ensuring the safety of consumers and the integrity of the legalized market. 
"…protect legitimate businesses from unfair competition."
Alexander stressed the importance of stringent enforcement not only for public safety but also to protect legitimate businesses from unfair competition. He spoke of collaborations with local law enforcement and the need for continuous vigilance to keep the industry regulated and transparent.
Access a recording of the Senate Subcommittee Hearing by clicking here. 
From L to R: Patrick McKeage, First Deputy Director; Chris Alexander, Executive Director;  Damian Fagon, Chief Equity Officer; Photo Credit: OCM.
---