---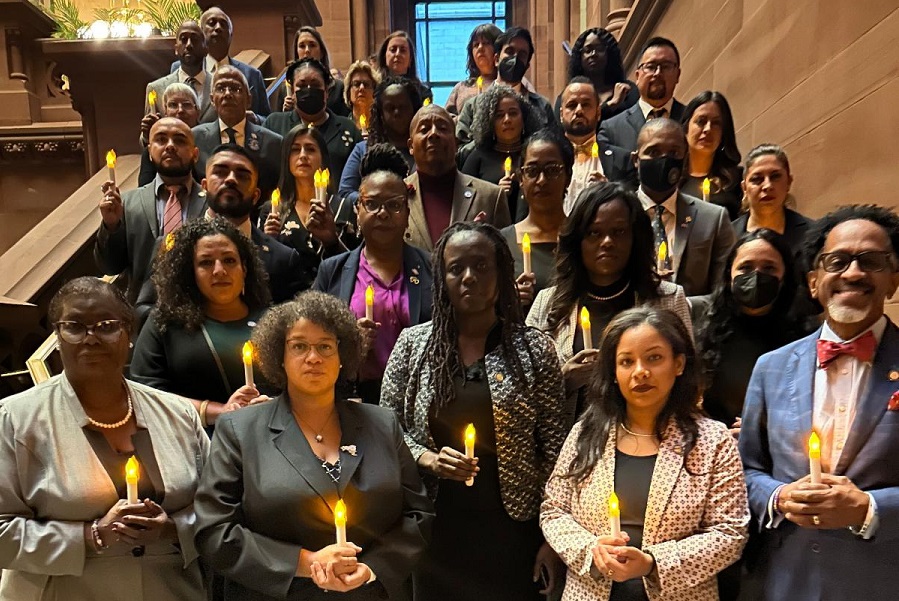 In memory of Tyre Nichols and the thousands of lives lost to police violence, the BPHA Caucus held a Candlelight Vigil this week in the Capitol Building.
The vigil featured speeches from BPHA Caucus members, a moment of silence for the victims, and a candle-lighting ceremony. 
"We feel it is important to come together as a community to remember those who have lost their lives as a result of police violence and to stand in solidarity with their families and loved ones. Today, and every day we stand with our communities to prioritize the protection and longevity of Black lives," said Assemblywoman Michaelle Solages, BPHA Caucus Chair.
"Tyre Nichols loved to skateboard, had a passion for photography, and came home every night for dinner with his mother. His life mattered and all Black Lives Matter," stated Senator Samra Brouk.
"As a black man, I have experienced the fear and trauma of violence firsthand, and I know that far too many others have suffered the same fate. That's why we pray for a better future – in which all people, regardless of race or ethnicity, are treated with dignity, respect, and fairness by the institutions that are meant to serve and protect us. We light candles and come together in solidarity, not just to mourn the victims but to fight for the change that they and their families deserve," stated Assemblyman Al Taylor.
About the New York State Black, Puerto Rican, Hispanic, and Asian Legislative Caucus
The New York State Black, Puerto Rican, Hispanic, and Asian Legislative Caucus is a sixty-eight-member body of state legislators representing a quarter of residents across the State of New York from Long Island, the metro New York City area, and upstate. For more information, visit bphacaucus.com.
---