---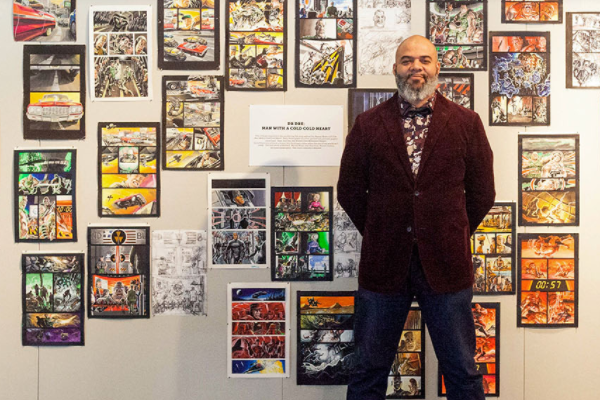 West Harlem Arts – a collaborative initiative of The Children's Art Carnival and Centro Civico Cultural Dominicano – is pleased to present BLACK METROPOLIS.
A 30-year retrospective of Glyph Award-winning illustrator and Visual Afrofuturist Tim Fielder, co-organized by DieselFunk Studios.
The multi-media exhibition features close to 100 published and unpublished drawings, animated clips, and digital stills from Fielder's decades-long career – visually transcribing his cultural migration from Mississippi to New York City to working the obscure margins of alternative weekly editorial cartoons, designing black rock music flyers, staking his place in the field of Visual Afrofuturism, African religious modalities, and mainstream pop-culture.
Afrofuturist-themed artwork in the area of graphic novels and concept designs will range from Fielder's work with The Village Voice and Marvel Comics to his projects Matty's Rocket and the groundbreaking HarperCollins-Amistad graphic novel epic, 'INFINITUM: An Afrofuturist Tale'.
"Tim has been a part of The Carnival's family for many years and has made a huge contribution to the development of so many of our students that have followed in his footsteps," said Michael Unthank, Interim Chair, The Children's Art Carnival. "We are so excited to welcome Tim back to CAC for this exciting exhibition."
"The wave is cresting in this new age of Afrofuturism," said Tim Fielder. "Black Metropolis represents my life's work and I'm so proud to be partnered with The Children's Art Carnival to bring my work to the world."
Tim Fielder
Tim Fielder is an Illustrator, concept designer, cartoonist, and animator born in Tupelo, Mississippi, and raised in Clarksdale, Mississippi.
He has a lifelong love of Visual Afrofuturism, Pulp entertainment, and action films. He holds other Afrofuturists such as Samuel R Delany, Octavia Butler, Pedro Bell, and Overton Lloyd as major influences.
He is known for the graphic novel, INFINITUM: An Afrofuturist Tale, published by HarperCollins Amistad in 2021.  Additionally, he produced the Glyph Award-winning 'Matty's Rocket'.
Black Metropolis will be on view February 1 – March 31, 2022, at The Children's Art Carnival, 62 Hamilton Terrace, Harlem, NY 10031.
Photo by Ed Marshall.
---