---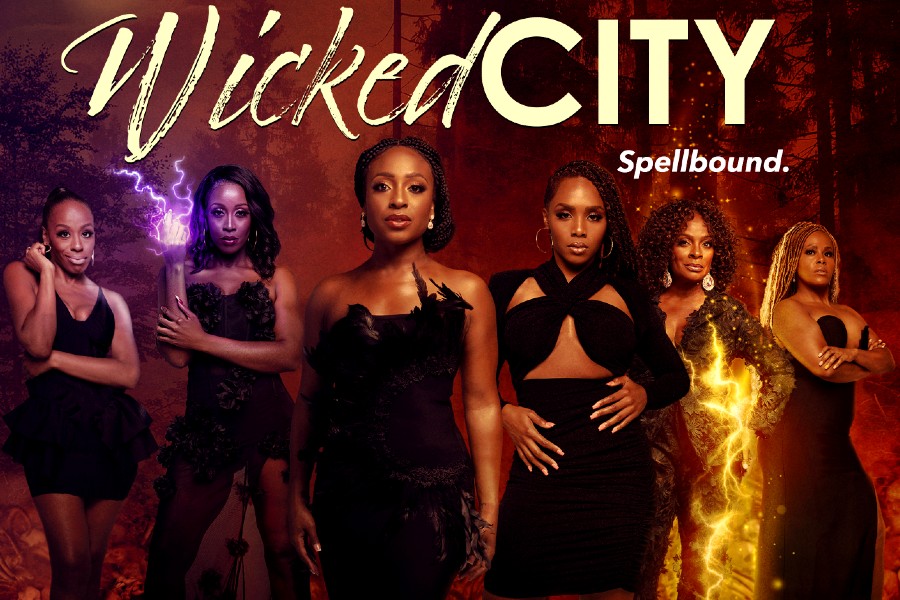 Today, ALLBLK, the popular streaming service for Black Television and film from AMC Networks, released the trailer for the new supernatural drama, Wicked City.
The 6-episode scripted series, slated to premiere on Thursday, December 1, 2022, from executive producers Tressa "Azarel" Smallwood and Donte Lee, follows a coven of five Black witches who push their supernatural powers to new heights after uncovering dark secrets and accidentally entering the world of the forbidden.
In Wicked City, four young, chic, modern-day witches— Jordan (Shaquita Smith, The Couch), Mona (Mercedez McDowell, The Resident), Angela (Chantal Maurice, P-Valley), and Sherise (Chanel Mack, The Harder They Fall) belong to Charmed City, a coven lead by Tabitha (Vanessa Bell Calloway, Shameless). The witches make the acquaintance of Camille (Taylor Polidore, Snowfall), a naturally powerful witch who is oblivious to her gift.
Things take a menacing turn resulting in an accidental death and leading to the witches performing a forbidden resurrection spell. Unfortunately, it is too late, as a dark sinister being is brought back from the other side. Now, between their complicated personal lives, unearthed secrets of the past, and attempt to defeat a powerful wraith, this coven is in for the most dangerous ride of their lives.
Additional cast includes Columbus Short (True To The Game, Remember Me: The Mahalia Jackson Story), Rhonda Morman (Sister Swap: Christmas), Malika Blessing (The Lost Souls Café), and Rolonda Rochelle (Chicago Fire).
Tressa "Azarel" Smallwood (Mega Mind Media) and Donte Lee executive produced the series. Kevin Key and Melissa LLewellyn-Alston served as producers with Dale Lewis directing for Relentless Studio. General Manager, Brett Dismuke, and SVP of Development & Production, Nikki Love will serve as executive producers for ALLBLK.
Check the film out in Harlem at AMC Theatres including the theater on 124th Street in Harlem.
ALLBLK
ALLBLK is an invitation to a world of streaming entertainment that is inclusively, but unapologetically – Black. Featuring a diverse lineup of content that spans across genres and generations, the ALLBLK library includes exclusive original series such as A House Divided and Double Cross; must-see independent films, nostalgic Black cinema, popular WE tv originals, lively stage plays, and so much more.
ALLBLK is available everywhere streaming services are found – iOS, Android, Amazon Prime Video Channels, Apple TV and Apple TV Channels, Roku and Roku Channels, Amazon Fire TV, YouTube TV, Cox, DISH, Sling TV, Charter and more.
At www.ALLBLK.tv, ALLBLK offers a free 7-day trial and thereafter is just $5.99/month or $59.99/year. Keep up with ALLBLK on Facebook at Facebook.com/WatchALLBLK and Twitter/Instagram @WatchALLBLK.

AMC Networks
AMC Networks is a global entertainment company known for its popular and critically acclaimed content. Its portfolio of brands includes AMC, BBC AMERICA (operated through a joint venture with BBC Studios), IFC, SundanceTV, WE tv, IFC Films, and a number of fast-growing streaming services, including the AMC+ premium streaming bundle, Acorn TV, Shudder, Sundance Now and ALLBLK (formerly branded "UMC").
AMC Studios, the Company's in-house studio, production and distribution operation, is behind award-winning owned series and franchises, including The Walking Dead, the highest-rated series in cable history. The Company also operates AMC Networks International, its international programming business, and Levity Entertainment Group, its production services and comedy venues business.
---