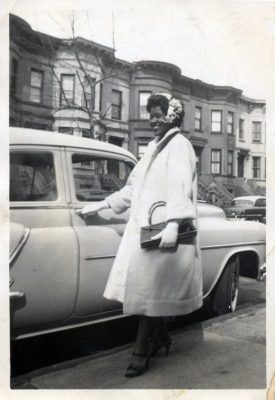 Support Harlem World Magazine, the #1 source in the world for all things Harlem.
Harlem women have always looked fabulous, with the help of Harlem designers like Anne Cole Lowe to Dapper Dan the young lady above headed to Sunday church service is a great example of Harlem style during the 1950's.
The young lady smiles on this sunny day as she stands in a pose before opening the door of the matching white car in her in a soft white coat and gloves, her flower head-dress wrap and wonderfully  accented with black shoes and a funky black purse in her hand.
Via Pinterest
The Harlem Love connection: