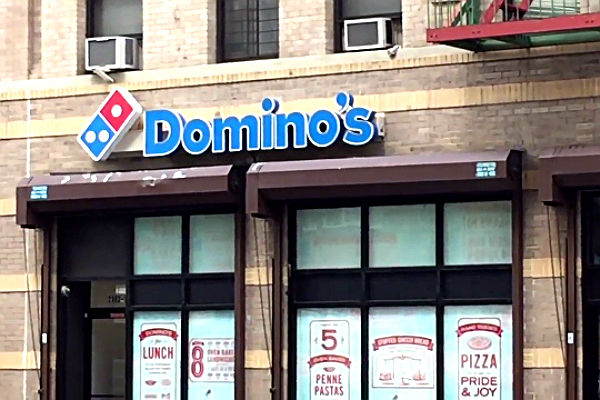 The operators of 10 Domino's franchise locations have agreed to pay $480,000 to their workers in back pay, according to a settlement announced by the New York attorney general from Harlem to . 
Eric Schneiderman filed a lawsuit against three Domino's franchisees in May, part of his ongoing investigations into possible labor law violations at dozens of the pizza parlors throughout the state. Thursday's settlement involves franchisees who ran ten different Domino's in New York City and elsewhere.
"In the past three years, my office's investigations have revealed a consistent and outrageous record of disregard for workers' rights by franchisees, and as we allege, with the full knowledge of Domino's Pizza," Schneiderman said in a statement.
The franchise operators — Anthony Maestri, Shueb Ahmed and Matthew Denman — will collectively pay nearly half a million dollars in restitution to their workers.
In his original filing last year, Schneiderman alleged a variety of different wage violations, including: "subminimum wages; failure to pay all overtime required by law; abuse of the tip credit; and failure to fully reimburse employees for all expenses related to use of their cars or bicycles for deliveries."
Ahmed operates two Domino's franchise stores, including one in Tribeca at 183 Church St. The lawsuit accused Ahmed of failing to pay his employees the legal minimum wage and failing to reimburse his delivery workers for the cost of their bicycles, among other allegations.
Maestri currently owns and operates … one in Harlem at 409 West 125th St.
Maestri currently owns and operates three locations in Manhattan, including one on the Upper West Side at 965 Amsterdam Ave. and one in Harlem at 409 West 125th St.
Schneiderman said Thursday that as part of the settlement, the three franchisees will be dropped from his ongoing lawsuit against Domino's Pizza. The suit alleges that Domino's encouraged its franchisees to use a payroll system that the company knew under-calculated wages.
The attorney general's office said it had settled investigation into 71 Domino's franchise locations in the state and agreed to nearly $2 million in restitution for workers.
Via source
The Harlem Love connection: