---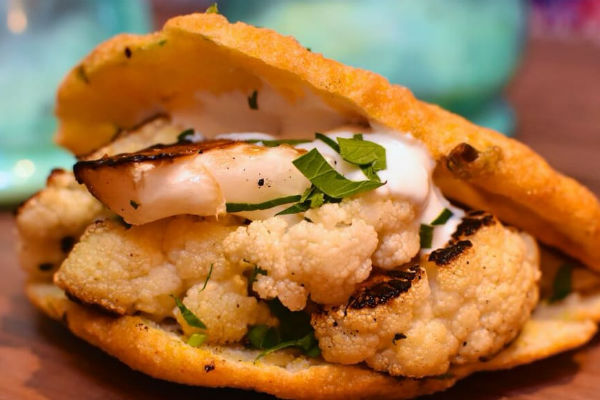 Fancy food court operators Urbanspace are readying a new location in Midtown West, taking up residence at 152 West 52nd Street this December (just 30 minutes from Harlem) with an intriguing group of newly announced vendors.
Urbanspace West 52nd will open with 14 stalls, including potential destinations like an offshoot of Eisenberg's — a first-ever spinoff for the 90-year-old Flatiron sandwich shop. The new, 11,500-square-foot Urbanspace, announced in January, is located in the former Bobby Flay's Bar Americain, which closed last year.
Urbanspace is the kind of food hall that appears to actually please dining critics, and the new location on West 52nd could keep the trend going. There, other vendors include a location of Harlem restaurant Lolo's Seafood Shack, serving Peruvian chicken and jerk seafood, and a branch of Tsukemen ramen specialists TabeTomo.
But Eisenberg's might be the real wild card: The expansion is hardly expected. Previous owner Josh Konecky told Eater NY last year that the Jewish sandwich shop was "anti-corporate," but noted that the new owner he'd selected, Warren Chiu, did come from a corporate background. Aside from sandwiches, the new outpost will include Eisenberg's staples like milkshakes and egg creams, too.
All the new vendors will be built around a ground-level bar operated by popular seafood chain Seamore's. Other vendors include Coney Shack, serving tacos and hotdogs with Southeast Asian ingredients, casual Greek spot Pita Yeero, vegan cafe Plant Junkie, and to-go sushi place Go Fish. A lofted mezzanine area is for rent, too.
Up to 65% off Select EvoShield Outlet Gear and Apparel
The new Urbanspace market is the fourth from the company to open in New York: The first is at 45th and Vanderbilt, and another opened just blocks away at 570 Lexington in 2018. A third operates at Times Square, and another opened in DC, while two are in the works for Chicago.
Photo credit: Lolo's Sea Food Shack in Harlem by the owner.
---