---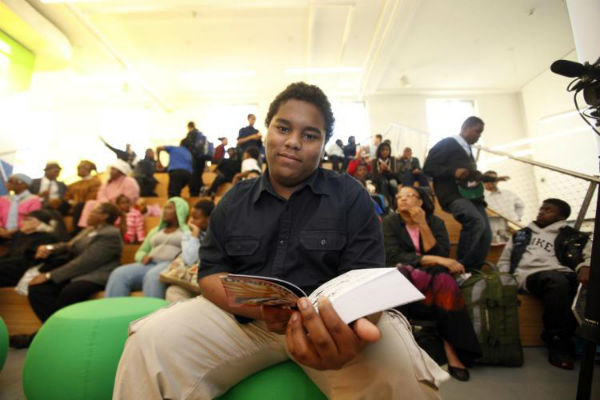 Youth of color represent the fastest growing segment of the U.S. youth population and make up the majority of young people in about half of the country's 100 largest U.S. cities. According to new research by the Center for Promise, the research institute of America's Promise Alliance, fear, along with inequitable access to social supports, opportunities and experiences essential for healthy development, place this group at increased risk for poor health outcomes.
Barriers to Wellness: Voices and Views from Young People in Five Cities is a first-of-its-kind, youth-led assessment that provides new insight into the obstacles to wellness young people of color face in five cities across the nation.
Harlem World Cares commends our neighbor in East Harlem Target for funding the study, it represents an important contribution to the emerging practice of youth participation in community research partnerships, which promises new insights when young people are both partners and leaders in research designed to influence program development and policy solutions.
With guidance from university-based researchers, teams of young people, age 13 and older, in Boston, Chicago, Denver, Philadelphia, and St. Paul designed their own assessments of health and wellness challenges facing peers in their communities. Despite differences in approach and geography, the young researchers found meaningfully similar results. Across all five cities, youth of color cited stressors like racial profiling, lack of access to community resources, unsafe neighborhoods, and fear of police – alongside traditional health challenges like drug use – as major obstacles to wellness.
"Inequitable health outcomes for youth of color are an old problem in need of new thinking," said Dr. Jonathan Zaff, executive director of the Center for Promise. "Many young people of color in the study cite feeling over-policed, undervalued and unsafe in their own communities as barriers to wellness. These feelings often stem from pervasive stress and trauma associated with a lack of access to high-quality nutritious foods and medical care and concerns of racial discrimination that can lead to risky behaviors and a distrust of institutions. The result is entire generations growing up in constant fear, which affects their lives and can limit their potential in so many ways."
Key Findings
Young people are under stress. In all five cities, respondents described employment concerns, race relations, violence, lack of community resources, and other environmental challenges as meaningful barriers to their well-being. In Boston, 78 percent of respondents said they are living under stress.
Young people feel unsafe. In Chicago, over 70 percent of respondents say they felt unsafe in their neighborhoods either "always" or "sometimes." According to one respondent in the city, "Kids can't freely walk or play in the community without being worried about getting beat up or shot and killed."
Young people mistrust and fear the police. In all five cities, the police served as an additional stressor for young people of color – despite respondents' concerns about community violence. Sixty percent of respondents in Chicago believe that police there antagonize youth. Respondents in Philadelphia shared similar anecdotes about experiences that damaged their trust in law enforcement.
Young people observe and suffer from a lack of access to community resources. Gentrification, local food options, and unemployment concerned respondents across the five cities. The vast majority of respondents in Chicago say they purchase their food at gas stations and corner stores. In Denver, respondents described gentrification pushing them out of once-familiar public spaces, forcing them indoors during after-school hours.
Young people engage in risky behaviors to cope with stress. In Philadelphia and Chicago, the majority of respondents believe young people are impacted by family members who use drugs. Respondents also identified a lack of information on safe sex practices and even the prevalence of social media as barriers to well-being.
"The insights our researchers found substantiate a long-held intuition among social work professionals: Young people are experts in their own lives," said Dr. Linda Sprague Martinez, assistant professor of social work at Boston University and lead author of the study. "As service providers, policymakers, and advocates explore programs to meet the next generation's needs, we must encourage and support young people, amplifying their voices and respecting the ability of young people of color to contribute insight and solutions to their lived experiences."
"Before I joined this project I just thought wellness was about being in shape and eating right," said 18-year old Dy'mon Pendleton, one of the Philadelphia group's youth researchers. "I never thought about how all of these outside contributors had anything to do with wellness. But now my definition of wellness has changed because I realize that it's way more than that. I feel as though everything that happens around us makes us a product of our environment."
Recommendations From Gradnation
Funders of health-related efforts, including public health practitioners, should consider a holistic wellness approach to investing in urban communities and communities of color and seek youth input to inform it.
Urban planners, developers, and housing advocates should engage community residents including youth to conduct a neighborhood health assessment, identifying assets and challenges in the community to avoid the unintentional loss of social, cultural, and recreational spaces.
Youth-serving organizations, educators, and local political officials should be equipped with the appropriate training to create safe spaces for racial healing, particularly for youth of color who have experienced traumatic events with community violence and police brutality.
Public safety officials and mayors should invest resources to engage key stakeholders in the public safety and juvenile justice system and engage youth of color in safe and structured dialogues to rebuild trust and improve police-community relations.
All adults involved with the justice system—police officers, juvenile court judges, parole officers, and caseworkers—should look for opportunities for positive interactions with young people, seek to examine their own biases about individual youth and groups of youth, and watch out for negative behavior among their peers.
Cities, counties, and states should create pipeline programs to increase racial, cultural, gender, and age diversity in municipal and state leadership.
State and local decision-making bodies—citizen advisory boards, school boards, state boards of education, local boards of health, city and county councils—should include one or more positions for young people to serve as full voting members.
Join The Conversation
Please join the conversation by using the hashtags #Barriers2Wellness and #SafePlaces and download the partner and community social media guide.
Help spread the word about Barriers to Wellness (just click to launch and edit the tweet below in Twitter):
Tweet: New @Center4Promise @BU_SED report cites fear & safety among #Barriers2Wellness for #youth in 5 U.S. Cities. http://bit.ly/Barriers2Wellness
Report, Videos & Other Resources
To access the research brief, full report, videos, graphics and other resources, please visit:
www.AmericasPromise.org/BarrierstoWellness
www.AmericasPromise.org/program/center-promise
---