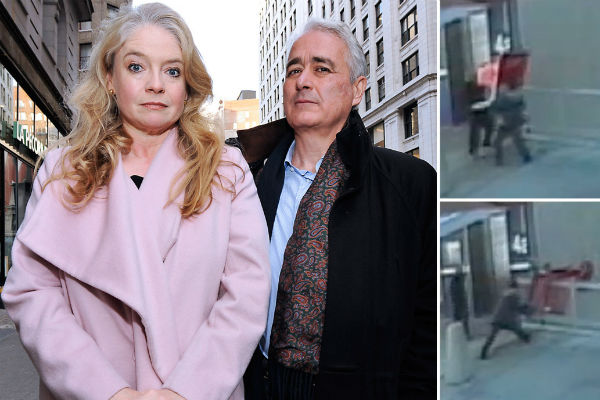 She was nearly killed when two teens tossed a shopping cart onto her from an elevated East Harlem mall walkway in 2011 — and the nightmare still isn't over for Marion Hedges, who faces financial ruin as her legal case drags on.
"This has destroyed our lives in every possible way," her husband, Michael Hedges, told The Post, saying they've been forced to live off loans and what little work he can scrounge because of the constant care Marion needs.
The Upper West Side mom still suffers from memory loss, double vision and impaired motor skills, and had to be retaught such mundane things as how to "fry an egg, write things in a calendar or use a phone."
"I'm struggling, and I'm embarrassed," Marion, 51, told our source.
The former real estate agent and charity volunteer was buying Halloween candy for needy kids when she was struck on the head by a Target cart tossed from the fourth-floor level at the East River Plaza Mall.
She and her husband sued the mall, Planned Security Services, Bob's Discount Furniture, developer Forest City Ratner and Target, among others.
At one particularly low point, the couple's two children — Dayton, 17, and Elizabeth, 18 — had to move in with their grandmother.
"It's absolutely wrong that companies can use legal maneuvers to avoid demonstrating whether or not they're providing safety," Michael Hedges said.
"We were willing to mediate, and [the companies] kicked the can down the road another four months — did nothing. It's cruel and unusual, because there are treatments that I cannot afford for my wife."
Marion went from being "superwoman'' to needing around-the-clock care, Michael, 53, lamented.
The two kids who tossed the cart — Jeovanni Rosario, then 13, and Raymond Hernandez, 12 — pleaded guilty in 2012 to assault. Rosario was sentenced to six to 18 months in a facility in Westchester, and Hernandez to six to 16 months in a therapeutic group home.
To this day, Marion maintains compassion for her assailants.
---
---
No related posts found...