---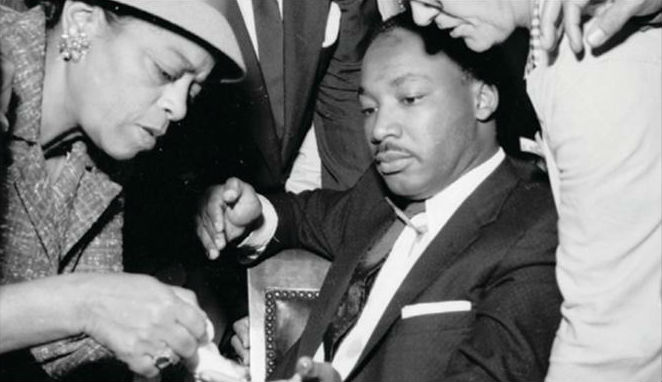 The 2019 Harlem International Film Festival (Hi) today announced official selections for its 14th edition taking place May 16-19. Shaan Couture's NEW YORK SCHERZO and Paul Starkman's WHEELS will combine for an Opening Night double feature on Thursday, May 16, with Harlem filmmaker Al Cohen's WHEN HARLEM SAVED A KING and the world premiere of Robert Rippberger's STRIVE going back-to-back for a Closing Night double feature on Sunday, May 19. The AMC Magic Johnson Theatre Harlem 9 (2309 Frederick Douglass Boulevard) will host both events comprised of films in or about Harlem, Upper Manhattan and the Bronx (HUB).
The international four-day film festival will showcase 124 films (24 features, 88 shorts), webisodes, music videos, experimental films and six VR/360 projects representing over 30 countries. James Wvinner's THE CRIP WHO LOVES YOGA, Chris Brandt's THE ILLUMINATION OF JIM WOODRING, Mike Majoro & Bestor Cram's THE LAST AMERICAN COLONY and Gabor Gasztonyi's NO WAY OUT, as well as 9 short films will also make their world premieres at the Festival.
"Each year, we are overwhelmed by the sheer number of films dealing with pressing issues from an unseen angle as well as those that are pushing boundaries culturally and socially. This year is no exception and our choices were from numerous films worthy of gala status," said the Festival's Program Director, Nasri Zacharia. "In 2019 we maintain the fresh assortment of world cinema that we have become known to showcase over the years, but this edition signals an important moment in the cinema of Harlem, Upper Manhattan and the Bronx, which we call "the HUB". The sheer volume and quality of work being produced by local talent is at an all time high since we started the festival a decade and a half ago. The opportunity of Opening and Closing with two double features thrilled us, because we are filmmakers first and film lovers foremost, so being capable of having all four Opening Night slots taken by local cinema is a milestone we only dreamt of reaching. The goal of immersing New York City, especially Upper Manhattan, with vibrant local and international cinema is why we have been putting on this film festival for 14 years now…we have made it our mission to assist, encourage and support the local artist and the development and distribution of their work." Zacharia also emphasized the festival's pride in consistently having a powerful contingent of undeniable female writers, directors and producers – more than forty films are directed by women this year, including some returning alumns of the festival. "Art doesn't come easily. Like anything else, it takes fortitude, blood, sweat and tears and then as much support as humanly possible in order for it to flourish and thrive. At this time in our world we need much, much more of it, not less."
Opening Night will feature Couture's NEW YORK SCHERZO and Starkman's WHEELS. Couture's NEW YORK SCHERZO focuses on 3 classically-trained musicians struggling to make it in New York City, while living and studying in an ever-changing Harlem. Having come there from Seoul, Pars, and Nashville, the trio faces the crossroads artists often do – can they sustain themselves and make a living while they try to make their art. The film will be preceded by the world premiere screening of Alexander Frasse's music video, ICE MOON, featuring the band, The Next Great American Novelist.
Starkman's WHEELS is a coming of age story about a 19-year-old from Brooklyn who wants to be a well-known DJ while maintaining the role of sole provider for his sick grandmother. However, his already tenuous situation becomes more complicated with the push and pull of his brother's return from prison and the encouragement of a manager at a dance studio who pushes him to strive for more in his life. The film will be preceded by a special demonstration by the artist credited with introducing the scratch technique, Theodore Livingston aka Grand Wizzard Theodore, and followed by the world premiere screening of Cortez McKay's ITCHING FOR A SCRATCH, which recreates Livingston's discovery and his development of the elements of this revolutionary technique.
When Harlem Saved A King and Strive
Closing Night offers a brand new version of Al Cohen's WHEN HARLEM SAVED A KING and the world premiere of Festival alum Robert Rippberger's STRIVE. WHEN HARLEM SAVED A KING takes a look at the 1958 stabbing of Dr. Martin Luther King Jr. by a mentally ill woman, early in the Civil Rights leader's career. King Jr. received life-saving treatment at the Harlem Hospital, and the Civil Rights Movement, was saved as well.
Written by Harlem native Sha-Risse R. Smith, Rippberger's STRIVE is about a teenage girl from the projects who works and struggles to get a college education, and achieve a better life despite the number of obstacles facing her and her family. The film will be preceded by Lynn Dow's STILL HARLEM, which looks at Harlem's gentrification through the relationship between a Columbia University student and the man who rents her a room.
The Crip Who Loves Yoga, The Illuminating Of Jim Woodring, No Way Out
Among the other films making their world premieres include: Festival alum Jim Wvinner's THE CRIP WHO LOVES YOGA originally premiered at the Festival as a short film several years ago and is back as a full length version. A street smart gangster and an outlaw biker from an Indian reservation completely turn their lives around. Experts explore how yoga is being effectively used to fight the problem of over-incarceration in the merciless for-profit prison system.
Chris Brandt's THE ILLUMINATION OF JIM WOODRING, profiles the famed cartoonist known for creating beautiful, nightmarish wonderlands based on his haunting childhood hallucinations. Woodring's artwork and stories breach the veil of mundane perception, and reveal deeper dimensions beyond, as Woodring discusses his career and process while revealing a wealth of artwork, some of which has remained private to this day.
Mike Majoro & Bestor Cram's THE LAST AMERICAN COLONY
brings to life the unbelievable true story of Juan Segarra, a Harvard student who abandons his career to set off on a treacherous path to fight for Puerto Rico's independence—a struggle that he rightly assumes will lead to either jail or death.
Gabor Gasztonyi's NO WAY OUT
traces the lives of two middle-aged couples, who have been long term users of heroin and cocaine. They began using the substances in their youth and their miraculous longevity is a shocking testament to the power of the human body and mind. Interspersed with Gasztonyi's B & W images of Vancouver's Downtown Eastside, each person in the film tells their unique story of survival in an environment of physical and psychological adversity.
The Harlem International Film Festival will once again feature webisodes and VR projects as part of the film festival, with highlights including the North American premiere of Ace Kim's webisode series Facility 003, which will screen the first episode in the series where four characters share their last moments before the self-destruction of Facility 003. Outside of the Facility, the rain and red atmosphere transform those who choose to step out into blanks. Kathy Smith's VR project Slippages/Grace will also have its North American premiere. Set against the austere landscape of the Australian bushland, overlapping images of ever-increasing clarity inform a woman's consciousness as she moves toward the end of her life. Proof of her existence through the many experiences take on a personal symbology, including kittens, stolen houses, car rides, cockatoos and horses.
Film festival passes and tickets are on sale. For the entire schedule and more information on the Harlem International Film Festival go to http://harlemfilmfestival.org
---