---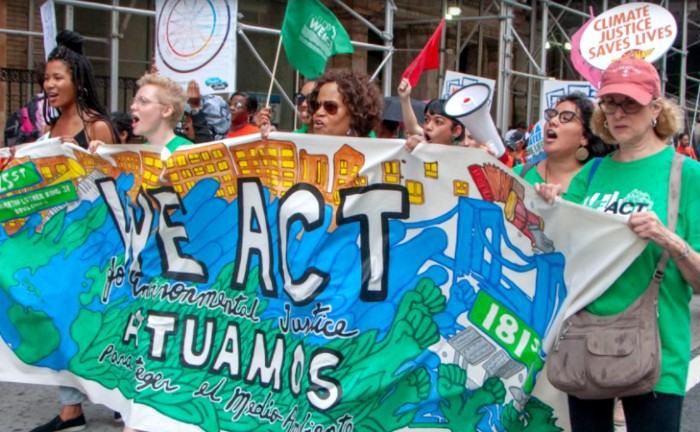 Here's a short list from We ACT in Harlem, Newsletter of upcoming events calendar.
WHEJAC Seeks Input on Screening Tool
The White House Environmental Justice Advisory Council (WHEJAC), which is co-chaired by Peggy Shepard, is holding two public meetings – March 30 & 31 from 3:00-7:00 PM EDT – to seek feedback on its proposed Climate and Economic Justice Screening Tool.
Learn more and register here.
---
New York State Climate Action Council Seeks Public Input on CLCPA Plan
The New York State Climate Action Council will hold 10 public hearings across the State to receive public input on its Draft Scoping Plan for the implementation of the State's Climate Leadership & Community Protection Act.
Find out when and where your nearest public hearing will be here.
NYSERDA Wants to Hear From You, and They Are Willing to Pay
The New York State Energy Research & Development Authority (NYSERDA) wants to work with environmental justice communities to help inform New York State's energy planning, programs, and policies as part of the Climate Leadership & Community Protection Act.
And they are going to compensate community-based organizations and individuals for their time.
Click here to learn how you or your organization can participate in this public input process.
---
Stay Informed About Local Environmental Violations & Enforcement
Concerned about environmental violations in your community?
Sign up for the US Environmental Protection Agency's Enforcement & Compliance History Online (ECHO) Notify, an email newsletter to help you stay abreast of violations and enforcement actions in your area or at a specific facility.
Sign up here.
---
New Awards Program for Inclusive Solar Communications Campaigns
The US Department of Energy has a new awards program to recognize communications campaigns that are successful in increasing solar energy adoption and/or solar workforce recruitment and retention among a diverse target audience.
The Shine On Awards for Inclusive Solar Outreach are putting the spotlight on campaigns that demonstrate excellence in communications across digital, video, podcasts, marketing, mobile, print, social media, and more.
Applications are due on June 10, 2022.
Learn more here.
They update their calendar frequently, so please check back soon.
You can also sign up for our newsletter or follow us on Facebook and Twitter for more event alerts.
---