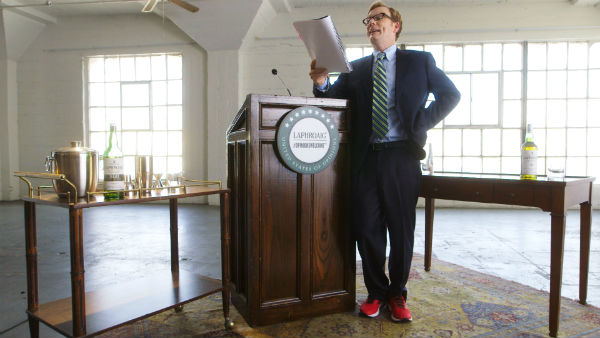 In just over 24 hours, we'll (finally) know the result of the 2016 presidential election. The road to now has been a long and exhausting journey, and it's about time for a break from the round-the-clock election chatter and nonstop political Facebook statuses – lawd. On the eve of Election Day, step away from the madness and indulge in a little filibustering, courtesy of Laphroaig Scotch Whisky and comedian Andy Daly (of Comedy Central fame).
Join Andy for 3.5 hours of uninterrupted E-mail free entertainment that involves not thinking about the end result of Tuesday's vote, and watch as he attempts to bring a divided nation together to finally decide whether our scotch tastes like "a bowl of vanilla ice cream from inside a forest fire," or "a moldy rock you licked from the fireplace." He even included a nod to some of the most (in) famous moments in American filibuster history, ahem, Huey Long (what do you expect with a last name like that) and Wendy Davis! Can you spot them all?
Andy Daly's Laphroaig Filibuster:
#OpinionsWelcome encourage consumers everywhere to share their thoughts on our liquid, whatever they may be. #OpinionsWelcome.
Please drink responsibly.
Related Articles
---
---