---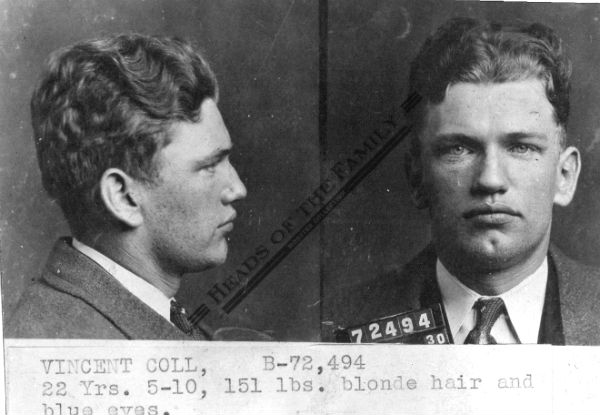 On July 28, 1931, Summer in Harlem, New York has always been a fun time for children of all ages. School was out and the days were longer, which meant they could stay out and play longer.  The East Harlem block of East 107th Street between Second and Third Avenues was usually crowded with residents lounging outside and children playing well into the evening hours. On this day 14-year-old Frank Scalesi was running a lemonade stand, strategically set up in front of the Helmar Social Club, a popular hangout for the neighborhood locals, including those running the rackets. One of the officers of the club was Vincent Rao, cousin of Joey Rao. The same Joey Rao, an associate of Dutch Schultz and arch-enemy of Vincent "Mad Dog" Coll.
Seven-year-old Salvatore Vengalli (pictured on the left) was playing in the street with his five-year-old brother Michael, and five-year-old Samuel Devino, as they were watching Frank Scalesi selling his lemonade for a penny a glass. Standing right by the boys was 12-year-old Florence D'Amello, who was attending to her three-year-old cousin, Michael Bevilacqua in his carriage. Several men were lounging in front of the Helmar Social Club, smoking cigarettes and chatting, while the enterprising Frank Scalesi was trying to make some lemonade sales. On this evening, Joey Rao was among those on the street and at 6:30 p.m. all the laughter turned to screams of terror as the tires of a green sedan with five men inside came to a screeching halt in front of the club. The men in the car fired shotguns and machine guns at their target Joey Rao who quickly ducked for cover. The children started screaming and running. Adults dropped to the ground. After 60 shots were fired, the car tore out toward Third Avenue and disappeared.
Joey Rao was unharmed, but the lemonade stand with its glasses was shattered and fortunately it's proprietor, young Frank Scalesi was unharmed. Five of the other children were not as fortunate. When the smoke cleared, Mrs. Catherine Vengalli came running out of her home and saw her boy, Salvatore, lying on the sidewalk covered in blood. She picked him up and rushed him to a taxicab to nearby Fifth Avenue Hospital. Her protective motherly instincts prompted her to act quickly and get her injured boy immediate medical attention. As the taxicab sped toward the hospital, she realized that her younger boy, Michael was also playing outside.
During that era in New York City, residents living on the same street were neighbors in the true sense of the term. In a neighborhood like East Harlem
, many of the residents were of Italian descent, with a good number having immigrated to the United States some years earlier. There was a strong sense of camaraderie among such neighbors. Some of the men worked together or helped one another find jobs during difficult times. The women cooked, shopped, did laundry, and gossiped together. When children were born, they pushed their baby carriages together and the children grew up as close friends. They considered their street to be a safe place for their children to play.
Other mothers came rushing out and when a neighbor found Michael Vengalli lying near a doorway, knowing that his mother just sped off with her other son, she did not hesitate to carry him off into another taxicab. The two closest hospitals were Fifth Avenue Hospital and Beth David Hospital. The neighbor did not know where Mrs. Vengalli took Salvatore, and Michael ended up at Beth David. In the chaos, as neighbors helped get the wounded children to hospitals, Florence D'Amello and Samuel Devino joined Michael Vengalli at Beth David, while Michael Bevilacqua was taken to Fifth Avenue Hospital where Salvatore Vengalli was being treated.
Florence D'Amello took a bullet in her right shoulder, as she tried to shield her toddler cousin, Michael Bevilacqua, who got caught with two shots in his back as he sat in his carriage. Samuel Devino got hit in his right leg and Salvatore Vengalli got hit in three spots all on his left side. Fortunately, all four of these children survived.  Five-year-old Michael Vengalli was not as lucky. Surgeons vigorously applied all their skills but were unable to save the boy.
Citizens were outraged. While most of the witnesses were unable to give a clear description of the killers, police had one mystery witness who gave the name of Vincent Coll as one of the shooters in the sedan. The NYPD offered $10,000 for any information leading to an arrest. Newspapers were offering rewards. Police Commissioner Edward P. Mulrooney dramatically increased the police street patrols and issued a "shoot to kill" order should any officer encounter Coll or his mob. The newspapers dubbed him Mad Dog Coll and the public demanded justice!
Coll was eventually acquitted in the case. But all of the men in this photo (above) were dead within months. Toughy Odierno and Frank Giordano
went to the chair at Sing Sing for killing a Schultz beer drop attendant in broad daylight. A Con Ed worker saw the whole thing while peering out from a manhole cover. Patsy Del Greco was shot dead in a Bronx apartment, and of course, Coll was famously shot 18 times while allegedly being kept on the line by Owney Madden (who at one-time owned the Cotton Club) in a phone booth in the pharmacy across the street from his hotel on 23rd street. Mike Basile may or may not have been the bodyguard who took a walk when Madden's gunman walked into the pharmacy with a tommy gun to take the "mad dog" out. I'm not sure what ultimately happened to him.
Photo credit: 1) Vincent "Mad Dog Coll" arrest photo. 2) Little old Salvatore Vengalli. 3)  Vincent (Killer) Coll and his henchmen faced the lineup like this at Police Headquarters to hear Assistant Chief Inspector John J. Sullivan brand them as baby killers. l. to r., Dominick Odirno, Pasquale del Greco, Mike Baisle, Frank Giordano and Killer Coll. By source and source.
---