---
By CC Minton
Tis' the spirit of the season, Moet Hennessy Consumer Engagement Director, Nelson Elliot Gillum, talks champagne just in time for the holidays.
Moet Hennessy is the LVMH house that owns its high-quality wines & spirits. The Core Bubble brands include Chandon, Moet & Chandon and Veuve Clicquot.  
With one of the most celebrated culinary days just two weeks behind us, Chandon, a sparkling wine, is great for the upcoming holidays.  It's made from seven different nationalities with a collaboration of sixteen winemakers making it festive and the sparkle of diverse lands and people.  
Moet & Chandon Champagne blends a full body of Pinot noir with the suppleness of Meunier and the finesse of chardonnay.  Veuve Clicquot, made by an innovator and history-making woman, Madame Clicquot, is the 250-year-old fruity and floral taste that is inspired by the motto "only quality, the finest."  
I had a chance to sit down and interview the man behind the brand, Harlem's Nelson Elliot Gillum where we talked champagne, fashion, and luxury.  Here's what Nelson had to say . . . 
CC Minton:  I know you live in Harlem.  So, tell me about where you're from and how long you've lived in Harlem?
Nelson Elliot Gillum:  I've lived in Harlem for 10 years.  I'm from the Washington, DC area.  I grew up right outside of DC and then I went to college at Howard University.  So, I've spent most of my life there but always knew I wanted to come to New York.  I moved here and first lived in Gramercy Park because I thought that living in that area meant living in New York City for me having not known much about the city.
CCM:  What brought you from Gramercy Park to Harlem?
NEG:  A friend from Howard actually took me to hangout in Harlem and he took me to Red Rooster we went to a couple of local bars near his apartment that he was fond of and the vibrancy of the neighborhood just struck me and I realized that this is where I had to live and I've been here ever since.
CCM: When you switched gears from the prestige group to work on the 3 Core Bubbles brand, was it an easy transition because you understood the company and the brand?  Was it career progress that led you from one to the other?
NEG:  It is career progression.  I think I'm fortunate enough to work on some of the largest champagne brands in the world.  Now with Veuve Clicquot & Moet, I think Chardonnay California sparkling wine is one of the most exciting brands that we have and is definitely the leader in premium sparkling wines.  And so, to work with top brands is a phenomenal opportunity and also a phenomenal responsibility.  I think the programs I'm charged with executing now are just on a wider, bigger scale.
CC MINTON: Are there any particular bubbles that women tend to enjoy in comparison to others?
NEG:  The interesting thing about champagne is that it really is universal.  The consumer base is not quite 50/50 but almost both men and women enjoy champagne equally.  But what I can say is that the interesting thing about Veuve Clicquot is that it has a phenomenal story behind it.  It's named after Madame Clicquot who was a widow at 27 in the early 1800s and with a child only through some extraordinary legal loopholes was she able to run the family wine business and she turned it into the global champagne brand that we are today.  But if you think about the time that she lived in when a woman couldn't even own bank accounts and be audacious business decision-makers and inventors.  And that she managed to get the brand to where it is today.  It really is inspiring.  And we do have a prestige champagne for Veuve Clicquot called La Grande Dame – the great lady which is what she was called.  She was called La Grande Dame.  She is truly an audacious innovator in the champagne space whose inventions are still used 'til this day.
There are exciting Louis Vuitton-sponsored experiences in New York City around the holidays.  Make sure to take advantage of the complimentary gift of luxury and Louis Vuitton global exhibition at Barneys New York.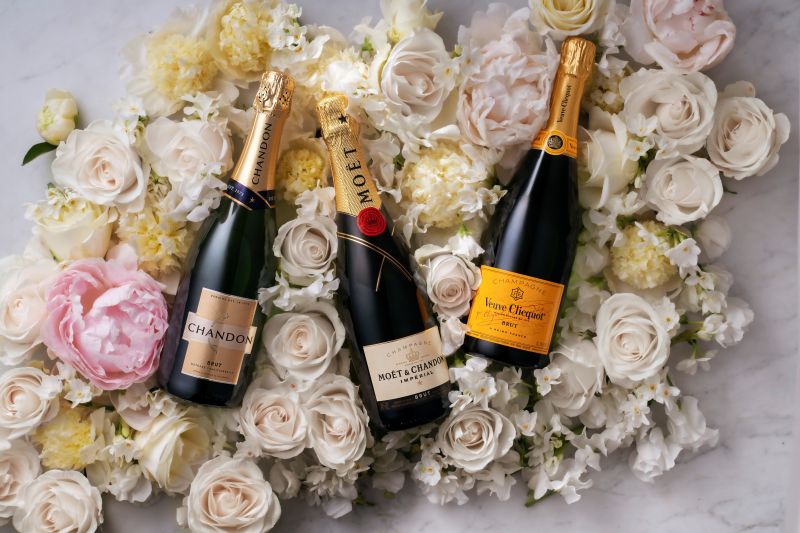 Enjoy a complimentary gift of luxury – Check out a sculpture by Es Develin, commissioned by Moet & Chandon. His work sits in New York City Lincoln Center Plaza through the festive season. 
Book your experience and grab a fast pass – Visit Barneys New York for Louis Vuitton's global exhibition that showcases the imaginative trunks created by 200 visionaries.
CC Minton
CC Minton is a Lifestyle Connoisseur, Founder at I Love Beautiful Spaces, Real Estate Pro, Photographer, Travelpreneur, and Author who enjoys interviewing celebrities and passionate people. Is the new president of Harlem World Magazine.
Photo credit: 1) Nelson Elliot Gillum. 2) Moet & Chandon.
---