---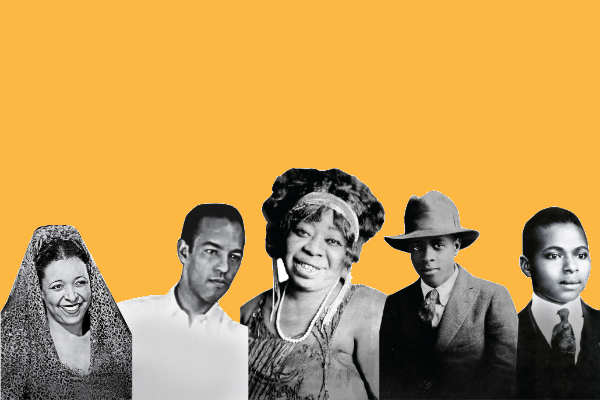 As we celebrate the Centennial of the Harlem Renaissance differently, The Gatekeepers Collective (TGC), a Harlem-based non-profit presents Harlem Renaissance 2.0 Banners.
Harlem Renaissance 2.0 Banners a public art installation commemorating Same Gender Loving (SGL), Lesbian, Gay, Bisexual, Trans and Queer (SGL/LGBTQ+) Harlem Renaissance icons. Originally scheduled to be unveiled in June during Pride Month, the installation was postponed due to the pandemic. The open-air unveiling of the banners honoring African American cultural triumphs is now scheduled for Saturday, July 25th at 12 noon at 125th St. and Broadway outside The Forum at Columbia University. Due to COVID-19, attendees are asked to follow social distancing protocols and wear face masks.
The Harlem Renaissance 2.0 Banners along West 125th Street from Morningside to 12th Aves is part of an annual public art and performance initiative celebrating same gender loving (SGL/LGBTQ+) African American heroes and sheroes who pioneered the Harlem Renaissance. "I love seeing The Gatekeepers Collective's inaugural banners when I look out my office window onto 125th Street and Broadway. They are such a welcome celebration and important reminder of the significant contributions made by these legends of the Harlem Renaissance whose creative legacies continue to inspire," declared Mary McGee, Executive Director, The Forum, Columbia University, adding "I look forward to this year's vibrant educational initiative in our neighborhood."
Designed by Jonathan Key, who swathes the respective icon's portraits in a color palette of warm reds and greens, this year's Harlem Renaissance 2.0 Banners feature singer and Actress, Ethel Waters, poet, novelist and playwright, Countee Coullen, visual artist, Richmond Barthé, The "Mother of the Blues," Ma Rainey, and novelist and publisher, Wallace Thurman, whose pursuits spanned the social, political and cultural landscapes and advanced political and social change. "We are reclaiming and celebrating the legacy of our SGL ancestors and affirming the power of acknowledging sexual diversity in the African American community," states TGC Executive Director, John-Martin Green, "Picturing ourselves as powerful is empowering to us all."
The Harlem Renaissance, also known as the New Negro Movement, was a revolutionary period that began during World War I, spanned the 1920s and lasted into the mid-1930s, resonating throughout New York and beyond. This was an era when gifted African American artists, writers, performers, intellectuals and social leaders influenced American and world culture. "The banners are an opportunity to amplify visibility for Black Queer artists and activists who, historically, have been doubly marginalized for their identities, and the recognition of their contributions is essential to reshaping our collective history," said Andy Tarradath, Chair of TGC Board of Directors.
Last year's banners featuring author and Rhodes Scholar Alain Locke, known as the "father of the Harlem Renaissance," Blues legends, Bessie Smith, and Gladys Bentley, and literary greats, Claude McKay and Langston Hughes are on display until July 20, 2020.
The Gatekeepers Collective look forward to presenting part 2 of this initiative on MLK Day 2021. The Harlem Renaissance 2.0 DOCUDRAMA will feature narratives of modern-day SGL/LGBTQ+ notables as the successor generation of the Renaissance icons spotlighting Tony Award-winning Producer and Press Agent, Irene Gandy, New York State Supreme Court Justice, W. Franc Perry, Tony Award-winning Choreographer, George Faison, and Activist and Mental Health Expert, Bonnie Harrison.
The Gatekeepers Collective's (TGC) mission is to build resilience and community among Same Gender Loving, Queer, Gay, Bisexual, and Transgendered African-descended men to support healing, self-determination, self-actualization, and love. For more information visit thegatekeeperscollective.com/
Harlem Renaissance 2.0 is made possible in part with funds from the Upper Manhattan Empowerment Zone (UMEZ), Lower Manhattan Cultural Council (LMCC), New York City Dept Cultural Affairs (DCA), New York State Council on the Arts (NYSCA), and West Harlem Development Corporation (WHDC).
For more information go to www.thegatekeeperscollective.com
Photo credit: SGLBTQ heroes and sheroes.
---