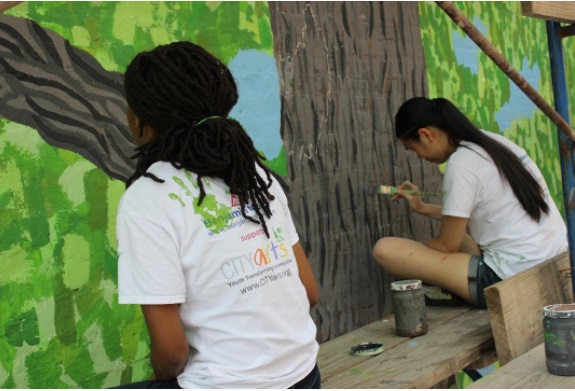 Lower Manhattan Cultural Council (LMCC) is thrilled to announce its partnership with the Upper Manhattan Empowerment Zone Development Corporation (UMEZ) and the launch of UMEZ Arts Engagement.UMEZ Arts Engagement is a new grant program that will award $650,000 over two years to artists and arts organizations in Upper Manhattan; up to $250,000 in 2018 and up to $400,000 in 2019. With UMEZ Arts Engagement, LMCC deepens its commitment to artist and audience outreach across all parts of Manhattan and its work as Manhattan's largest regrantor of arts and culture funding.
UMEZ Arts Engagement was developed by LMCC and UMEZ to provide direct support to the area's individual artists and smaller arts organizations, who previously were unable to apply for UMEZ funding directly. This new access will enhance the diversity and frequency of arts and cultural presentations in Upper Manhattan, defined as north of 98th Street on the east side of Fifth Avenue; and north of 110th Street on the west side. The area is home to a remarkable concentration of artists and arts organizations representing multiple art forms, traditions and aesthetics.
Through grants of up to $10,000, UMEZ Arts Engagement will provide direct funding for arts programs and presentations in Upper Manhattan between July 1–December 31, 2018, with the aim of helping artists of diverse disciplines, practices, cultural backgrounds and career stages contribute to the vibrancy and sustainability of the communities in which they live and work. In 2019, UMEZ Arts Engagement will provide direct funding for arts programs and presentations in Upper Manhattan for the full calendar year.
Funding is available for projects in the performing, literary, media and visual arts, ranging from folk/traditional forms to contemporary and socially-engaged artistic practices, with the requirement that artists and arts organizations applying present work in their home base of Upper Manhattan.
Proposals that connect audiences to rich arts experiences through concerts, performances, public art, exhibitions, readings, screenings, festivals, and more are encouraged. LMCC will present information sessions in January and February 2018 for interested applicants at three different locations in Upper Manhattan:
January 23, 2018 from 6:30-8:30pm at United Palace on 4140 Broadway
February 8, 2018 from 3-5pm at Hi-ARTS at 215 East 99th Street and
February 20, 2018 from 6:30-8:30pm at the Herbert Cave Auditorium at Harlem Hospital, 512 Lenox Avenue.
Attendance at an information session is required for all applicants, and Spanish translation will be available at all sessions.
Information sessions will be offered in January and February in each of Upper Manhattan's community board districts, with cultural partners that include the United Palace with Northern Manhattan Arts Alliance; Hi-ARTS with El Barrio's Artspace PS 109; and the Studio Museum of Harlem with Harlem Arts Alliance. The schedule and locations will be available in January.
Further details on the UMEZ Arts Engagement program are available on LMCC's website, http://www.lmcc.net/umez-arts-engagement.
Applications for 2018 UMEZ Arts Engagement are now open online at http://www.lmcc.net/umez-arts-engagement, and close on March 13, 2018.
Grantees will be announced in May 2018. 
Both LMCC and UMEZ have a strong record of supporting cultural programs in Upper Manhattan. UMEZ Arts Engagement joins LMCC's Manhattan Arts Grants portfolio, which has been supporting artists and organizations with direct funding for over 30 years to support presentations of diverse artistic disciplines and genres across Manhattan. Historically, LMCC partnered with The Field and Harlem Arts Alliance to produce Uptown/Downtown, a performance series that invited artists from both ends of Manhattan over a 6-week period to create, develop and present short works in venues uptown and downtown. LMCC has also hosted grant clinics and presented professional development workshops, frequently in partnership with arts organizations in Upper Manhattan.
Kay Takeda, LMCC's Vice President of Grants & Services, states: "For years, LMCC has had the great privilege of providing arts resources and collaborating with institutions in Upper Manhattan. UMEZ Arts Engagement will not only provide much-needed support to important creative projects and programming in vibrant neighborhoods, but also enable LMCC to deepen the relationships and knowledge we have developed in Upper Manhattan to be an even stronger community resource."
---
---
Since 1996, UMEZ has invested more than $55 million in nonprofit organizations with a focus on cultural institutions to spur the growth of Upper Manhattan's cultural and economic landscape. The launch of UMEZ Arts Engagement marks the first time UMEZ is able to provide an accessible source of project-based funding for individual artists and smaller nonprofit arts organizations that were previously ineligible to access UMEZ funding.
"We're delighted to expand our support to artists and smaller arts-based groups in Upper Manhattan," said Kenneth J. Knuckles, President & CEO of UMEZ. "Look around and you can see that Upper Manhattan is anchored not only by major cultural institutions, but also by the many hundreds of artists and smaller groups that enrich our community. This program will provide more resources to allow our creative community to expand their programs, broaden their audience and deepen their engagement with our community."
For more information about LMCC, visit lmcc.net.
For more information about UMEZ, visit umez.org.
Related Articles