---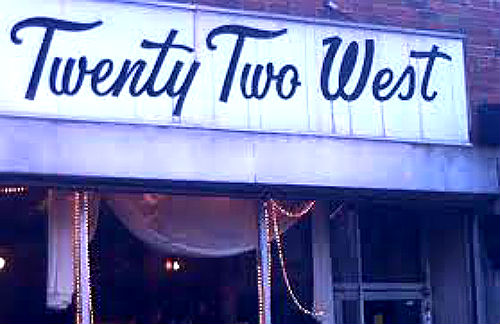 Twenty Two West or "22 West" was the name of the Harlem Restaurant – Bar – Jazz Club – Gallery & Banquet Room, that was located at 22 West.135th Street, between 5th and Lenox Avenue in Harlem, New York.While it was a friendly, casual, neighborhood spot, it was also host to the personnel from the incomparable Schomburg Center for Research in Black Culture and the Harlem Hospital, as well as celebrities from the government, sports and entertainment fields.
"22 West" opened it's arms to be the kitchen, dining room and showcase for great thinkers, literature, music and revolutions of enormous impact on the world.
"22 West" was a popularly scheduled destination for many tourists from all over the world and the United States. It was also a regular stop on many of the bus tours through Harlem. They used to come not only to enjoy the home cooked soul food, gallery of paintings, bar, live jazz and classic juke box full of Ellington, Basie, Billie Holiday..etc, plus a constantly updated R&B collection, but also due to it's historic significance. This was Malcolm X's self described "Home Away From Home". Malcolm X had his own booth at the back of the restaurant, now formally dedicated to his memory with a plaque and a luminous black & white oil portrait of him by renowned artist, Martha Glinski. This painting was unveiled during a Fox-TV remote 2 hour broadcast from "22West" of "Good Day New York", with Malcolm X's youngest daughter Illysah and CeCe Wynans on hand, in 1996.
The Restaurant walls were adorned with postcards sent by Malcolm X to "22 West" to keep current during the famous press "black out" of his legendary visit to Mecca. He also did many of his famous radio broadcasts from the payphone that was once located in the back of the restaurant where the gallery was.
Alex Haley regularly met Malcolm X at "22 West" to gather information for the "Autobiography of Malcolm X".
There was a stool at the lunch counter dedicated to the memory of Howard Bennett, former Labor Leader, who initiated the movement and was instrumental in getting Martin Luther King, Jr's. birthday designated as a National Holiday. Along with a plaque, directly across the street, dedicated by the City of New York, there is the "Howard Bennett Playground". This playground is traditionally one of the host locations for the annual Basketball Tournament in which local youths and NBA Stars, past & present, participate and officiate.
The walls of "22 West" were also adorned with photos of visitors, including Mohammed Ali, Martin Luther King, Jr. and Sugar Ray Leonard.
"22 West" was traditionally been the spot where political activists have gathered to discuss a grand array of issues that affect the Black Community and the Nation. Former Borough of Manhattan president Percy Sutton in conversation with Livingston Wingate, Adam Clayton Powell's Chief Assistant was common.
HARYOU-ACT, main ingredient of Lyndon Johnson's Great Society held their regular meetings there. Muslims even tried to have pork not served because of the social importance of "22 West".
Owner Attorney James Alston VI has "22 West" as a family legacy dating back to 1962, when his father was proprietor.
From James Baldwin to Jimmy Breslin; from Willie Mays to Walt Fraizer; from Lionel Hampton to Cab Calloway; from Abraham Beame to John Lindsey to David Dinkins (all former Mayors of New York); from John Henrik Clarke to Dr. Ben Jochannan, from the most common to the most renowned, 22 West was a stop on the Harlem scene.
And for a place that has so spawned much of the genius of American Culture and is inevitably on the rise again, "22 West" is a fine example of the jewel that is Harlem. With food that is perfectly prepared, it is unquestionably the best food you can find in Harlem (Source).
Please add to the story of "22 West" in the Comments section below.
Related articles
---