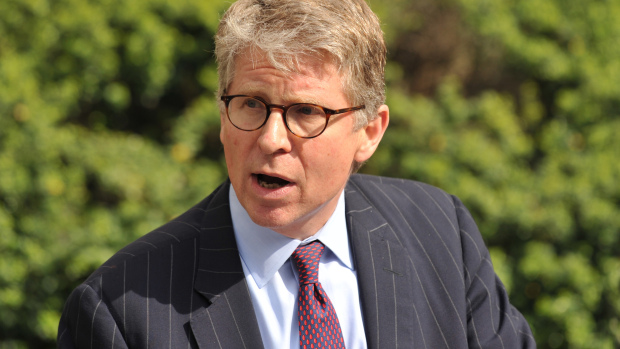 Thousands of low-level crimes like turnstile jumping will no longer be criminally prosecuted in most circumstances, Manhattan's district attorney announced on Friday in a significant policy change.
Manhattan prosecutor Cyrus Vance said on Friday morning that his office would virtually end its criminal prosecution of about 20,000 nonviolent, low-level crimes. Jumping the turnstile at subway stations, the most common of these low-level offenses, previously could result in fines or even jail time, a policy that advocates have long noted disproportionately affects minorities.
Vance has repeatedly pressured to decrease prosecution on many of these crimes. Last year, Vance ended criminal prosecution of about 10,000 smaller offenses, like littering and public consumption of alcohol. Jailing turnstile jumpers in particular has long been called out by activists as a policy that effectively criminalizes poverty by arresting New Yorkers who might be too poor to afford a subway card, according to activist groups like the Riders Alliance. That group and others pushed Mayor Bill de Blasio to include funding in his 2018 budget to provide reduced-fare Metro Cards to low-income city residents, a request that was cut in final versions of the budget.
Of the thousands of offenses that Vance will stop prosecuting, turnstile jumping is the most common. The prosecutor estimated that 10,000 people were arrested for skipping their subway fare in Manhattan last year.
Under the new policy, people caught committing low-level offenses will be issued a summons or a desk appearance ticket or go through a community service program, instead of being handcuffed and getting a court date, according to Vance's office. Prosecutors may still pursue criminal charges for low-level offenses for people who they think "pose a demonstrated threat to public safety," Vance's office said in a statement.
The push to arrest fewer New Yorkers gained a new urgency in 2017 as activists worried about undocumented migrants with minor rap sheets would fare under President Donald Trump's immigration policies. Trump and his administration have advocated for a significant increase in the number of immigrants deported, particularly those with any kind of criminal record.
Donna Lieberman, executive director of the NYCLU, hailed Vance's move as a "correction to the tarnished legacy of Broken Windows" policing, referring to the Giuliani-era theory that forceful prosecution of quality of life crimes would help drive down violent crime.
"Minor misdeeds like fare beating shouldn't result in criminal records, which can upend people's lives and risk their housing, employment, education and more," Lieberman said in a statement. "With the Trump administration determined to use even minor criminal offenses to deport immigrants and fuel a regressive law and order agenda, this move will protect New Yorkers."
This dip in prosecution is also expected to help the city on its ambitious plan to drastically reduced the city's jail population within 10 years, so that all facilities on Rikers Island can be shut down. De Blasio announced a plan to close the city's largest jail facilities on Rikers, which have long been plagued by complaints of violence against inmates, in April. Under De Blasio's vision for that plan, the city's average daily jail population — which today hovers around 9,400 people behind bars on any given day — would have to dip to 5,000 inmates per day.
Credit: Andrew Burton / Staff / Getty Images News.
Related articles
Related Articles
VIDEO
---
Harlem Cultural Archives is a donor and foundation-supported Historical Society, Its mission is to create, maintain and grow a remotely accessible, online, interactive repository of audio-visual materials documenting Harlem's remarkable and varied multicultural legacies, including its storied past as well as its continuing contributions to the City and State of New York, the nation, and the world.
Support Harlem Cultural Archives
and
click here to get more Harlem History
, Thank you.