---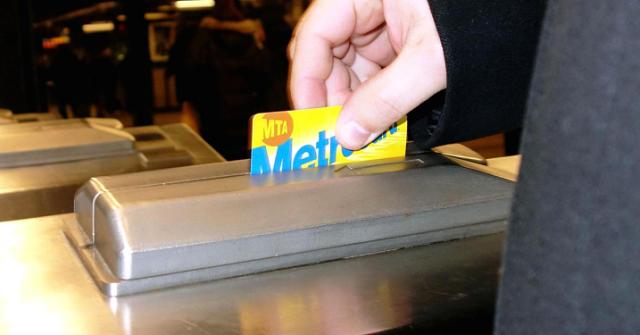 Metro reports that as you wait on subway platforms this week, you may see transit advocates asking you to call Mayor Bill de Blasio's office to ask him to adopt "fair fares."
Members of the Riders Alliance and Community Service Society, an organization that advocates for low-income New Yorkers, announced on Monday a weeklong grassroots campaign in an effort to secure half-priced MetroCards for those living in poverty.
Call @NYCMayor today by dialing 212-783-3000 and asking him to support #FairFares pic.twitter.com/VD6NEkmL0q
In April, New York City Council Speaker Corey Johnson and Finance Committee Chair Daniel Dromm recommended that the mayor institute the Fair Fares initiative in the Fiscal Year 2019 budget.
"The administration should fund a program to provide half-fare MetroCards to individuals and families living below the poverty level so that approximately 800,000 low-income people could save up to $726 per year," they recommended.
But de Blasio did not include the initiative in the proposed budget, prompting Johnson and Dromm to release a statement saying they were disappointed that it did not address all of the City Council's priorities.
Nearly $1 billion in additional revenue is expected in Fiscal Year 2018, they noted, and they said that "the administration should use this additional revenue to institute Fair Fares to help our most vulnerable neighbors," as well as to fund a property tax rebate for middle-class homeowners and put some money in reserves.
Now, with the passage of the city budget just weeks away, advocates with the Riders Alliance and Community Service Society gathered in Harlem on Monday to bring that call to action to regular New Yorkers. In front of the 125th Street subway stop, they announced a weeklong canvassing effort to ask riders to call Mayor Bill de Blasio's office, voice their support for Fair Fares and ask him to join the cause.
The location is also meant to raise awareness of the Fair Fares initiative, the advocates said. Making the announcement in Harlem — parts of which have poverty rates around 30 percent, or nearly one-third of residents — they hoped to reach some of the riders who may qualify.
---