---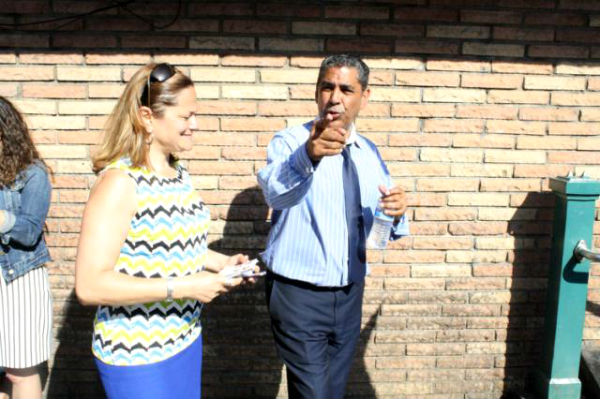 State Senator Adriano Espaillat claimed victory tonight in the bitter primary race to succeed Congressman Charles Rangel—a victory that, if it holds, will put him in line to become the first Dominican-American elected to Congress.
"Tonight, the 13th Congressional District made history," Espaillat said, in a hard-to-hear speech delivered in a packed Inwood bar, after rain scuttled plans for him to speak outside from atop a parked truck. "The American Dream is still alive."
With nearly all precincts reporting vote totals at 11:40 p.m., Espaillat had 36.65 percent of the vote—leading his closest contender, Harlem Assemblyman Keith Wright, who had 33.77 percent, by more than 1,000 votes. It is a virtual certainty that the candidate who wins the Democratic primary will win the congressional seat in the general election this November.
Espaillat, who represents Inwood and Washington Heights in the State Senate and tonight called himself as a "country boy from Santiago," twice tried to win the seat representing upper Manhattan before—both times challenging Rangel, a decades-long incumbent hailing from Harlem, and both times failing to oust him. This time, with Rangel's retirement, the seat was open—but Harlem's lion, not having looked kindly on Espaillat for challenging him, threw his support behind Wright.
The race was a bitter one: the two men hit each other in the press repeatedly. But it was also bigger than the two men running: it was the distillation of a struggle over where the seat of power would reside in the 13th Congressional district. Would the political locus remain in Rangel's Harlem with Wright—where it has been since the district's boundaries were drawn—or would it migrate to Washington Heights and Inwood, where Espaillat's held his State Senate seat?
Key to that question—and to the last two primaries here—has been the changing demographics of the Congressional district, once home to a dominant African-American community that elected Adam Clayton Powell Jr., the first African-American member of the U.S. Congress, and then Rangel. In recent years, the district has lost some of its black population while its Latino population has grown to account for more 55 percent of the district's residents, and 45 percent of those who can cast a ballot there.
Espaillat hails from that Latino community—but in 2012 and 2014 that, and endorsements from local elected officials like Council Speaker Melissa Mark-Viverito, wasn't enough to get him past a charismatic and decades-long incumbent in Rangel. That seemed to change tonight with Rangel off the ballot and the lion of Harlem seemingly unable to choose his own heir.
Espaillat paid homage to those who came before him in his brief remarks, thanking Rangel, whom he campaigned against bitterly, and Clayton Powell Jr. for their service in the district.
Read more about this story HERE.
Related Articles
---