---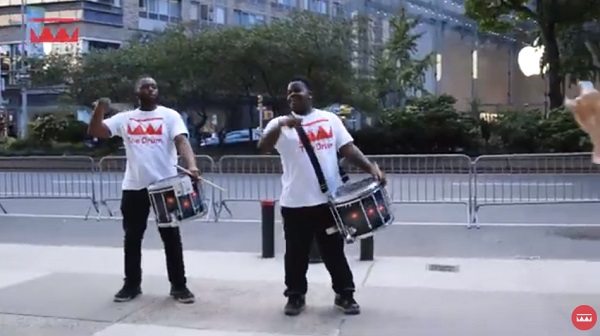 You know that band of percussionists you always see making noise at The Drum Awards?
The ones we've taken to Austin and New York, and soon will be marching down La Croisette in Cannes too?
They're just a small fraction of The Marching Cobras, a teenage community program from Harlem, NY, and the subject of The Drum's latest documentary, which we'll be screening in Cannes reports The Drum.
The Marching Cobras, who now count The Drum as their media sponsor, are what the students of Cobra Performing Arts become when they perform in front of a live audience. They comprise a drumline and a danceline of the college sporting tradition, and practice nearly every day in the Manhattanville Community Center on West 133rd St.
They often take to the streets of their local Harlem to perform. However, when they head to France with The Drum, it will be the first time many of the performers have traveled outside the US.
For a young group whose youngest members are barely bigger than the drums they carry, the Marching Cobras have landed some impressive gigs.
Their biggest brush with stardom came just south on Broadway, when they were cast to perform a set in Times Square as part of Alejandro González Iñárritu's Oscar-winning movie, Birdman. But they've also performed at the Super Bowl, on a 10-day tour for Pepsi, an event hosted by Rihanna, and at multiple drumline competitions – gigs that have taken the kids outside of their New York neighborhood and across America.
"When you meet new people and you go to different places you've never been before, that opens your eyes to see that there is more to life than just being where you are, and where you've grown up," says Beyoncé Miller, an alumnus of the program now studying law at college. "This program allows you to that, and I'm forever grateful for it."
The Cobras march to the beat of one man – Terrel Stowers. The founder and leader of the group has been many things – a disruptive kid in class, a teacher and a car salesman to name a few – but for every kid that comes through the doors to practice, he is a father figure.
He's been known to take calls from students the middle of the night and isn't afraid of discipline either – if your grades slip, you're not allowed to travel for performances.
His idea was, and still is, simple: keep inner city kids away from crime on the streets by giving them something to learn, something to do and something to aim for.
Cobra Performing Arts initially began with Stowers teaching kids to tap out drumbeats on tables because he didn't have enough money to buy drums. Now, he's dreaming of forming a brass and woodwind section with the cash earned from donations and a multitude of corporate gigs.
"This has taught me a lot about life, a lot about society," he says. "How can we be engaged in helping other families, helping other kids? What's out there? There are a lot of families that don't know what their options are."
Stowers has been doing the job for 22 years now – long enough that he can't imagine doing anything else. He's driven his group across America in a van, pulled a number of all-nighters in the days before a competition and thrown a KFC in London into chaos with his order for a troupe of hungry teenagers.
He does it, in part, for the success stories.
"We have kids who are in college right now, kids who have graduated who are part of the police force or working as managers or probation officers. And they always come back and say, 'Listen, if it wasn't for this band program I don't where I'd be. I'd probably be dead'."
The Marching Cobras will be playing at The Drum Arms at Cannes Lions, 17-21 June, 2019. Check out our full schedule of events taking place at the International Festival of Creativity here.
The film above was co-directed, produced and edited by Alex Newton and co-directed by Katie Deighton.
---