---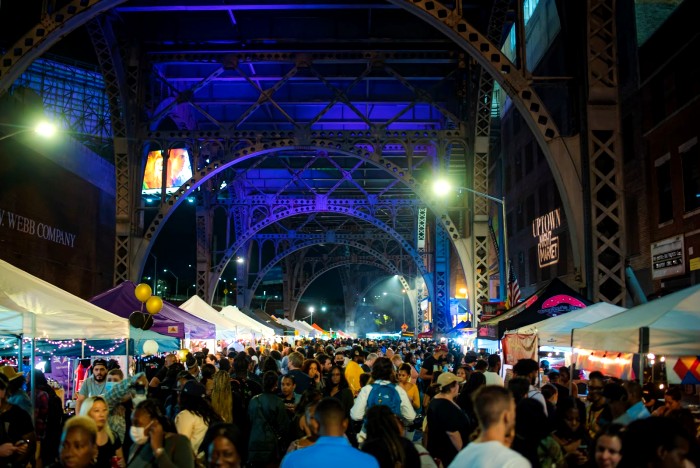 By Deborah Hwang
In the past few years, New York City has seen an influx of open-air markets that are bringing the vibe of street markets to American soil.
But the Uptown Night Market in Harlem may be one of the most impressive ones so far because it turned a forgotten space into an innovative community hub to help promote both local businesses and Harlem as a whole.
While the market provides an outlet to sell food, crafts, and other merchandise, it also showcases lesser-known parts of Harlem such as the micro-, small-; POC-; LGBTQIA+-; and women-owned businesses that enhance the diverse community of Upper Manhattan.
Uptown Night Market started as a humble, open-air market by a man with a big vision.
Marco Shalma, the founder of MASC Hospitality Group, saw how much of a positive impact the Bronx Night Market brought to the community.
And as a business leader and someone who comes from the surrounding neighborhoods, he couldn't just let that positive energy disappear in Harlem.
He wanted to create something similar but with all the Harlem flare one could hope for, which led him and his team to start working on developing an open-air market under the cinematic presence of the Arches of Harlem.
Of course, such a significant feat of providing a space where more than 5,000 patrons could attend would never have been accomplished without work to create it; cultivate events and partnerships; foster community relationships with merchants and sponsors, and curate an appealing atmosphere.
But most importantly, Marco's vision for creating Uptown Night Market came from his passion for serving the love-to-eat community.
The night market was designed to showcase local arts and crafts, with more than 50 vendors displaying handmade jewelry, art, and other handcrafted goods.
To create a unique experience, they integrated art elements such as performers, music, and unique food options into their monthly event.
The team also wanted to make sure their food options were unlike anything else in New York City; for every event series, they feature a select few up-and-coming or locally-owned food businesses that are guaranteed to provide global cuisines that are incredibly delicious AND different from what is offered by any of their competitors.
Since the launch of the first event series during the peak of the pandemic, Uptown Night Market cultivated a following of over 8,000 patrons who shared a common goal of supporting micro and small-owned businesses, musicians, and artists by spotlighting their talents.
Now in 2022, the monthly series event has grown into a must-go for tourists visiting New York City, with over 50 vendors serving everything from their homegrown dishes and unique food concepts.
On top of that, event producers accumulated an average of 75% of vendors who classified themselves as micro-, small, POC, immigrant, women, and LGBQTIA+-owned businesses in just their first year.
Upper Manhattan and its surrounding neighborhoods have always been known as a commercial hub, but unfortunately, it's been neglected from media exposure.
Almost a decade ago, many people associated Harlem as an unsafe place to visit; and in terms of a nightlife scene, it's never been a place people wanted to visit.
However, in recent years the community of Harlem has brought the neighborhood so much more to offer in terms of activity, commerce, and the nightlife scene.
Harlem is now being transformed into a central foodie destination filled with creativity & vibrancy.
This further served as the inception of an idea that would turn into what we know today as Uptown Night Market.
Uptown Night Market proved to the NYC community that people will come out of their comfort zone and try new foods if they are presented with a great night market experience.
Marco Shalma and his team took something neglected by the media (even though there were many success stories already) and created something amazing.
Thanks to the open-air market scene, the community of Harlem has seen an increase in commerce by way of start-up entrepreneurs who host pop-up shops at the night market – which provides a platform for small businesses to showcase their products and services to their community.
The team at West Harlem Development Corporation and the Uptown Night Market all knew the monthly event would serve as a focal point of their community – and a way to generate positive attention for an area that often gets turned away by media coverage.
The future of Uptown Night Market will continue to showcase Harlem's rich culture through food, merchants, and performances and will quickly speed the momentum to expand its footprint in 2022 and beyond.
Vendors are looking forward to setting up under the Arches of Harlem every second Thursday of the month, starting with their first event on April 14th, 2022; and event producers have already announced their most ambitious & creative project yet, Harlem Bazaar.
Sign up for our newsletter here to learn more about our upcoming events, vendors, and performances.
Click here to RSVP for our next event series on Thursday, May 12th, 2022.
To learn more about Uptown Night Market, please visit https://www.uptownnightmarket.com/.
Get connected online on Instagram, TikTok, Facebook, and LinkedIn.
Sponsored by: West Harlem Development Corporation, Truly Hard Seltzer, Green Mountain Energy, Harlem Pride, Harlem Late Night Jazz, Liberty Coca-Cola Beverages, Twisted Tea, Angry Orchard Hard Cider, Samuel Adams, Dogfish Head, The City of New York Community Board 9, Coney Island Brewing Co., Sauza.
Photo credit: Uptown Night Market.
---