---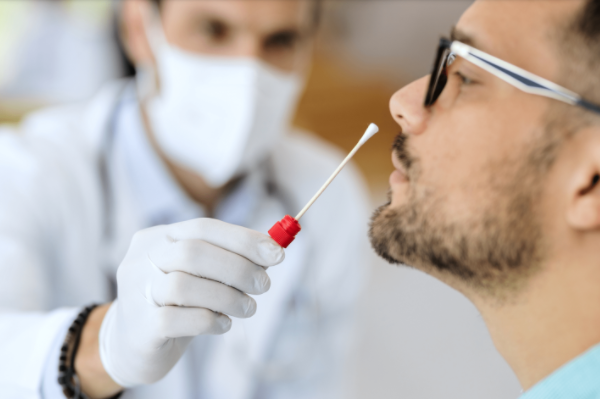 Employers should double down on vaccination, boosters, and other safety measures to strengthen protection and business resilience.
The emergence of a new COVID-19 variant—Omicron—has raised immediate concern, even as it has also raised more questions than answers about the risks it poses. It will likely be a matter of weeks before medical experts can determine how fast Omicron will spread and how much protection existing vaccines and boosters provide. For now, experts say vaccines and boosters will likely protect people from severe illness.
In the meantime, Omicron has already made its presence felt in the economy: The Dow fell 2.5%, to its low for the year, on the day the new variant was confirmed, then slipped further still yesterday. Meanwhile, the Chair of the Federal Reserve said that Omicron could slow down progress in the labor market and intensify supply-chain disruptions if the variant makes people unwilling to return to in-person work.
Until we know more about Omicron, businesses should take action to increase vaccination and protect workers. For now, the advice of public health experts is clear: vaccination and boosters provide the best protection. Businesses should remember lessons from earlier in the pandemic: taking action now can slow the virus' spread. There is no reward for inaction.
Here are five steps businesses can take right now to protect their employees against the Omicron variant:
1. Encourage vaccination and boosters.
On Monday, the CDC strengthened its position on boosters, fully recommending them for all adults (up from simply making them available to all adults). Bottom line: If your employees were vaccinated before June 1, they should be encouraged to get a booster. Employers should offer paid time off to help them do so.
2. Support working parents to vaccinate their children at the same time.‍
Paid time off for child vaccination is especially crucial for low-income parents, and it remains the best defense against school closures.
3. Require masking.
Employers may wish to require that all workers and/or customers mask up for the extra degree of protection masks provide. The CDC recommends masking for all people over age 2 in public indoor settings located in areas of high or substantial transmission.
4. Consider limiting non-essential business travel.
The World Health Organization advised that people over age 60 and those at high risk of illness due to underlying medical conditions delay their travel plans. And airline industry analysts are predicting a "wait and see approach" to U.S. business travel. The CDC continues to recommend that unvaccinated people delay traveling until they are fully vaccinated.
5. Stay flexible about return-to-work plans.
Companies planning to bring their employees back to the office in January should prepare for strengthened safety measures. Others may wish to delay the return as public health guidance evolves over the coming days and weeks—potentially as early as tomorrow, when the White House announces a winter COVID-19 strategy.
Employers should also bear in mind that early reports of Omicron cases being "mild" are not conclusive. Most COVID-19 cases, of any strain, are mild; it may take a few weeks for medical experts to determine whether Omicron is causing spikes in serious illness.
This post was originally published by the Health Action Alliance, a valued partner on our historic COVID-19 Vaccine Education Initiative in the Ad Council.
---