---
By Kass
Greetings Harlemites! Summer is upon us, and the city is warming up! Fashion is abuzz with exciting trends and a diverse mix of styling.
The NY Spring/Summer '22 fashion collections, represent an overdue burst of captivating fashion trends. From large asymmetrical cutout fashions to baring the bra, summer fashion has capitulated into chic streetwear with a nice mix of vintage and modern glamour.
The SP/SU'22 styles are paired with stimulating color theory. Such color theory offers bright, bold, and beautiful soft hues.
The fashions shine bright in hues like Gossamer Pink (soft powder pink), Innuendo (bold fuchsia), Glacier Lake (iced baby blue), Dahlia (robust violet) and Coco Mocha (rich brown), breathing life into the popular styles of the season, allowing consumers to make fashion their own!
As we soar into blazing heat and dip into cool waters, check out Harlem WorldMagazine's top (5) fashion trends for Summer 2022:
1. Shimmer and Shine
Shimmer is back! SP/SU'22 womenswear collections offer Day and evening designs with shimmer and shine for the fashionista who loves to make a bold fashion statement.
From casual to formal designs, sparkles are on deck! Designers such as Tom Ford and Alexander McQueen present fashions which combine sheer fabrication with bright sparkles for making pieces shimmer without excessive shine.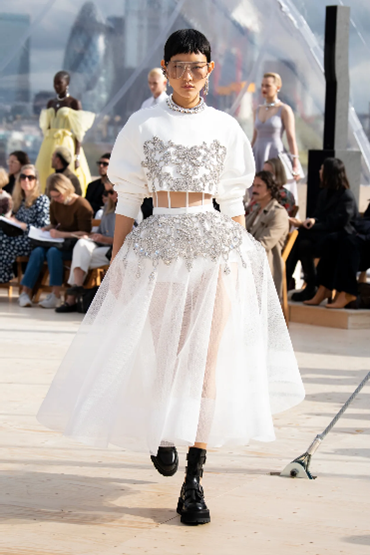 2. Big & Bold Cutouts
Unlike traditional cutouts, this season's big and bold cutouts allow the wearer to go hard or go home! Talented designers LaQuan Smith and Stella McCartney offer pieces that authentically embody forward-thinking design and construction, with a side of uninhibited fashion. Are you ready?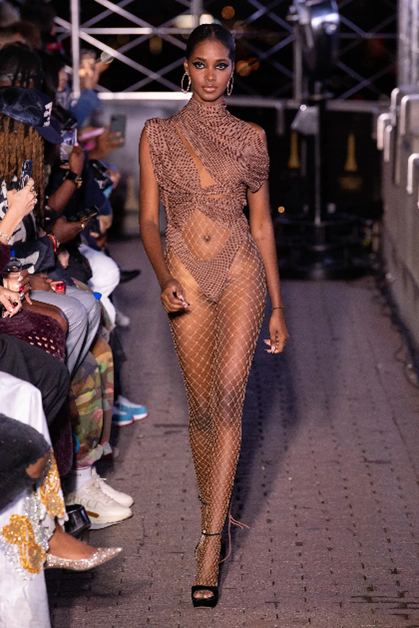 3. Bare Your Bra
Are we ready to bare our bras? This trend brings a risqué approach to rocking undergarments as sexy outwear, complimenting relaxed casual suiting, or allowing a simple pair of jeans to pop!
Can you brave this trend? Designers Maryan Nassir Zadeh, Jacquemus, and Miu Miu, offer designs that embrace baring the bra with style and a demurred sexy.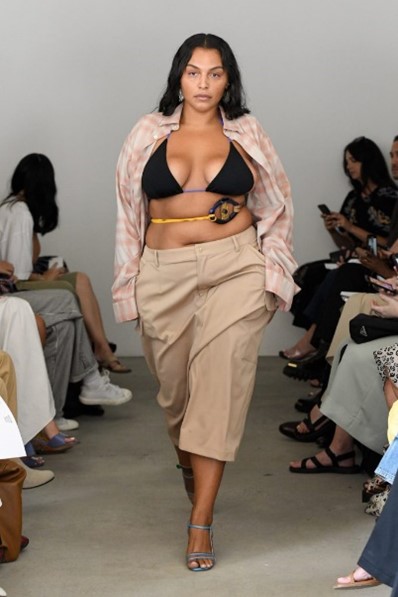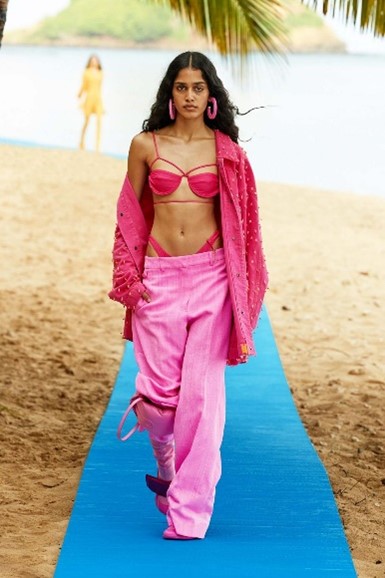 4 Big Bags are back
The bigger the better! The SP/SU '22 handbag trends are big, bold, and all-encompassing for toting, well…. everything!
Designer Tory Burch serves as the influencer of the SP/SU '22 big bag design styling. Showcasing large designs on the runway, the big bag styling allows for extended functionality, a fashionable complement to SP/SU '22 designs.
Likewise, designers Peter Do, and Stella McCartney also serve to capture some of the season's trendiest designs.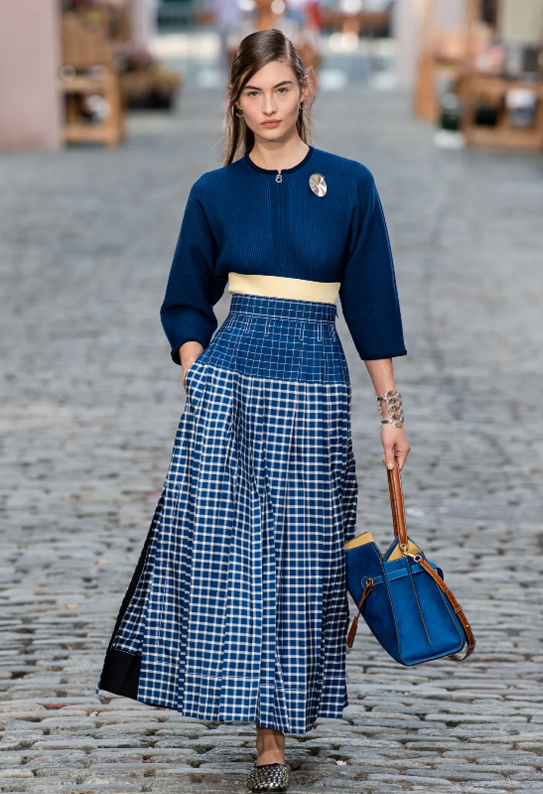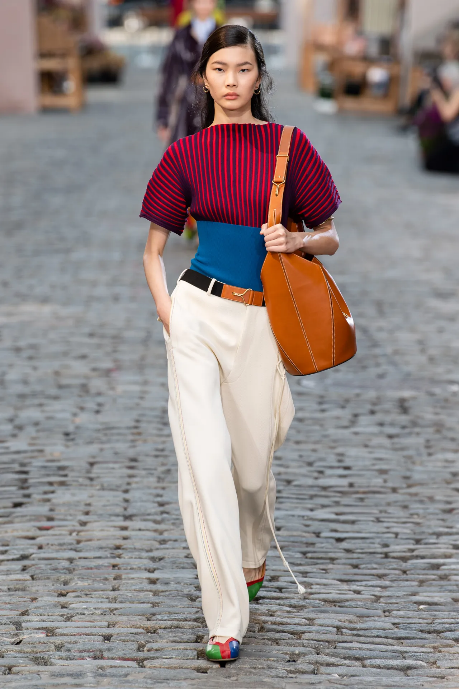 5 Relaxed Suiting in Action
The relaxed suiting trend serves as a great compliment to baring your bra or styling with a transitional casual flair.
Open jackets and full pants, allow a comfortable pairing of relaxed suiting with bare bra designs, presenting a classic, somewhat racy take on women's suiting Designers.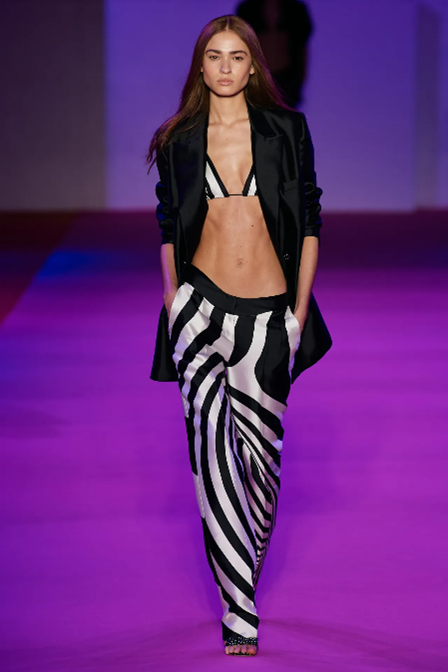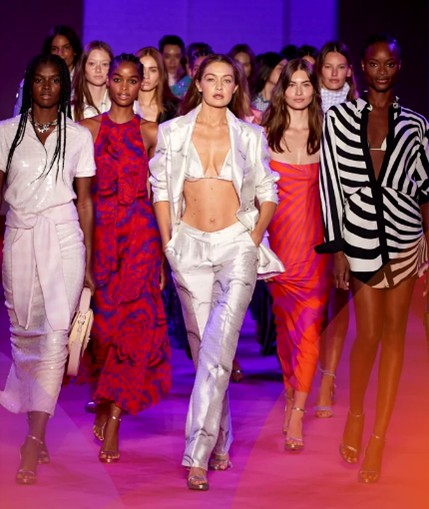 Kass
Kass is an educator, life, and style writer of the Kass Fashion Report with Harlem World Magazine. She spends the majority of her time bouncing between San Francisco, CA., and Harlem, New York pushing her brand and experiencing the differences.
Photo credit: 1-12) Source.
---