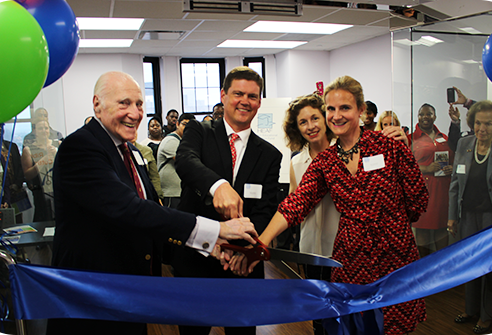 Ruth Rathblott, executive director of Harlem Educational Activities Fund (HEAF), her team and guests held an incredible Ribbon Cutting last night, and they appreciate the tremendous support they received. 
They're moving full speed in their efforts to open doors to higher education for even more students. Please join them in their continued celebration in October by sharing on Instagram and Twitter with the hashtag #HEAFOpensDoors! To see your posts on their live social feed, click here!
Related: Ruth Rathblott Executive Director of HEAF talks to Danny Tisdale On The Danny Tisdale Show's Harlem World Magazine Radio.
Each time they hear from a student, they are reminded of why they do what they do. With your help, they look forward to helping more motivated young people from Harlem to Hollis build successful futures.
Click here to donate.
---
Become a Harlem insider - Sign-Up for our Newsletter!
---
Harlem Educational Activities Fund, 2090 Seventh Ave, 10th Floor., New York City, NY 10027, heaf.org, 212.663.9732
Related Articles
---
VIDEO
---
"Dr. Harry Delany is a renowned Harlem born and raised surgeon, the son of the great jurist and civil rights leader, Hubert Delany...." This monthly post is made in partnership with Harlem Cultural Archives.