---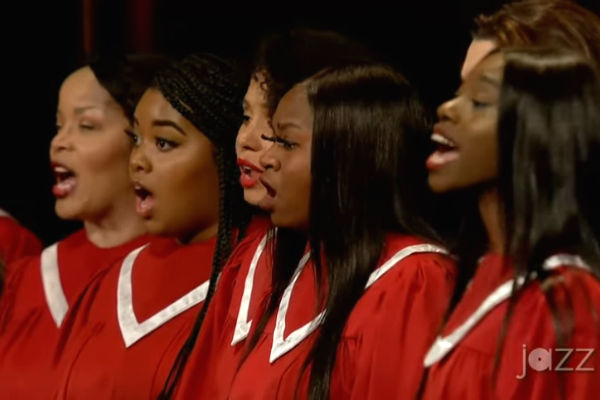 From the Vault: The Abyssinian Mass by Wynton Marsalis as part of Jazz at Lincoln Center Orchestra in New York, New York.
The event was with Wynton Marsalis and the Chorale Le Chateau conducted by Damien Sneed at the Rose Theater in New York City on November 21, 2019. The Abyssinian Mass is based in Harlem at the Abyssinian Baptist Church in Harlem, NY.
Here's the trailblazing video:
"Everyone has a place." We live by these words at Jazz at Lincoln Center, and Wynton Marsalis's epic "The Abyssinian Mass" embodies them. Featuring the Jazz at Lincoln Center Orchestra with Wynton Marsalis with 70-person gospel choir Chorale Le Chateau directed by Damien L. Sneed, The Abyssinian Mass is a joyful, gospel-and-jazz celebration of togetherness and the human spirit.
Commissioned in 2008 to honor the bicentennial of Harlem's famed Abyssinian Baptist Church, The Abyssinian Mass is a spirited and swinging affirmation of just how good it can feel to be human.
Personnel:
Reeds
Sherman Irby – alto & soprano saxophones, flute, piccolo, Bb clarinet
Alexa Tarantino – alto saxophone, flute, Bb clarinet
Victor Goines – tenor saxophone, Bb & Eb clarinets
Camille Thurman – tenor and soprano saxophones, Bb clarinet
Paul Nedzela – baritone & alto saxophones, bass clarinet
Trumpets
Ryan Kisor
Kenny Rampton
Marcus Printup
Wynton Marsalis
Trombones
Vincent Gardner
Chris Crenshaw
Elliot Mason
Rhythm Section
Dan Nimmer – piano
Carlos Henriquez – bass
Herlin Riley – drums
Featuring
Rev. Dr. Calvin O. Butts, III – Sermon
Damien Sneed – Conductor, Organ
Jared Grimes – Tap
Choral Le Chateau
Chenee Campbell, Jayne Skoog ,Lauren Dawson Ashley Pezzotti, Stephanie Estep,Christine Fanuel, Karyn Stevenson, Elaine Sturkey, Blanche Dingle, Laticia Smith, Nicole Vega, Angela Owens, Dana Elizabeth Fripp, Danielle Muse, Jasmine Muhammad, Alexandria Crichlow, Tynan Davis, Lauren Davis, Jasmine Estelle, Talyce Hays, Garielle Masters, Alexus Rice, Sametria Richardson, Michela Walker, Gloria Quinlan, Matia Washington, Gabrielle Stravelli, Elizabeth Swanson, Patrice Eaton, Cherub Ruth, Jeanette Blakeney, Nicole Phifer, Sharol Stone, Tesia Kwarteng, Anitra McKinney, Jillian Willis, Ann McCormack, Hanna Clayton, Tyra Smith, Amesha Stephens, Kaleb Hopkins, Jamal Green, Clinton Ingram, Edward Washington, Richard McMichael, Terrol Stone, Davon Redmond, John Rawlins III, Vincent Davis, Linny Smith, Cory Campbell, Shaquile Hester, Daniel Ozan, Darnell Norman, Steven Jones, Martin Bakari, Joe Caruncho, Jr.,James Street, LeeLonn Walker, Rashad Burris, Tavian McGee, Djore Nance, Jonathan Kirkland, Justin Michael Austin, Charles D. Carter, Marvin Lowe, Kortland Whalum, George Dowdy, Jamal Moore, Eliam J. Ramos, Daniel Rich, Arthur Jonson, Samuel Peters, Tyler Whitfield, Andrew Ward, Quincy Quinlan
To learn more about Jazz at Lincoln Center, visit us at http://www.jazz.org
Listen to the original album: http://orcd.co/abyssinianmass
Photo credit: Screenshot from youtube.
---