---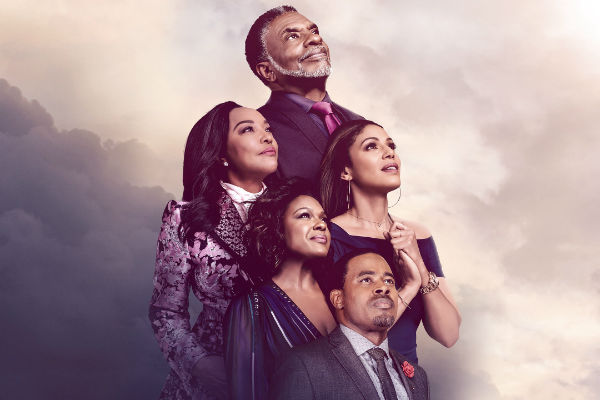 "Greenleaf," the hit megachurch drama from award-winning writer/producer Craig Wright ("Lost," "Six Feet Under") takes viewers into the unscrupulous world of the Greenleaf family and their sprawling Memphis megachurch, where scandalous secrets and lies are as numerous as the faithful. Born of the church, the Greenleaf family love and care for each other, but beneath the surface lies a den of iniquity – greed, adultery, sibling rivalry and conflicting values – that threatens to tear apart the very core of their faith that holds them together.
Greenleaf stars Merle Dandridge as Grace Greenleaf; Keith David as Bishop James Greenleaf; Lynn Whitfield as Lady Mae Greenleaf; Kim Hawthorne as Kerissa Greenleaf; Lamman Rucker as Jacob Greenleaf; and Deborah Joy Winans as Charity Greenleaf-Satterjee.
During its fourth season on OWN (Sept 3-Nov 5, 2019), "Greenleaf" was the #1 original scripted series on ad-supported cable for African American women and total viewers, and was also the #4 original scripted series on ad-supported cable for all women 25-54, leading OWN to be Tuesday night's #1 cable network among African American women, households and total viewers.
"Greenleaf" has garnered ten NAACP Image Award nominations, including wins for Outstanding Drama Series in 2020, and Outstanding Supporting Actress in a Drama Series in 2019 and 2020 (Lynn Whitfield). The "Greenleaf" Soundtrack Volume Two was named Outstanding Gospel/Christian Album (Traditional or Contemporary) by the NAACP Image Awards in 2018.
The series has also been recognized by the Alliance for Women in Media's Gracie Allen Awards and by the Black Reel Awards for Television. "Greenleaf" is produced for OWN by Lionsgate in association with Harpo Films and Pine City. Executive producers are Oprah Winfrey, Craig Wright ("Lost," "Six Feet Under"), Clement Virgo ("Empire") and Kriss Turner Towner ("Black Monday").
OWN: Oprah Winfrey Network is the first and only network named for, and inspired by, a single iconic leader. Oprah Winfrey's heart and creative instincts inform the brand and the magnetism of the channel. OWN is a leading destination for premium scripted and unscripted programming from today's most innovative storytellers. OWN's original scripted series include popular dramas "Queen Sugar," "Greenleaf," "The Haves and Have Nots, "If Loving You is Wrong" and upcoming drama series "David Makes Man" from Academy Award winner Tarell Alvin McCraney and family saga "Ambitions" from box office hit-maker Will Packer.
Official Trailer: Greenleaf Season 5, Greenleaf by Oprah Winfrey Network:
OWN's Saturday night unscripted programming lineup includes "Iyanla: Fix My Life," "Ready to Love," "Love & Marriage: Huntsville," "Black Love" and "To Have & To Hold: Charlotte." OWN connects with its audience wherever they are, inspiring conversation among a global community of like-minded viewers on social media and beyond.
Launched on January 1, 2011, OWN is a joint venture between Harpo, Inc. and Discovery, Inc. The venture also includes the award-winning digital platform Oprah.com. Access OWN anytime, anywhere on WatchOWN.tv or across mobile devices and connected TVs. For more information, please visit www.oprah.com/own and ht tps://press.discovery.com/us/ own/.
---