---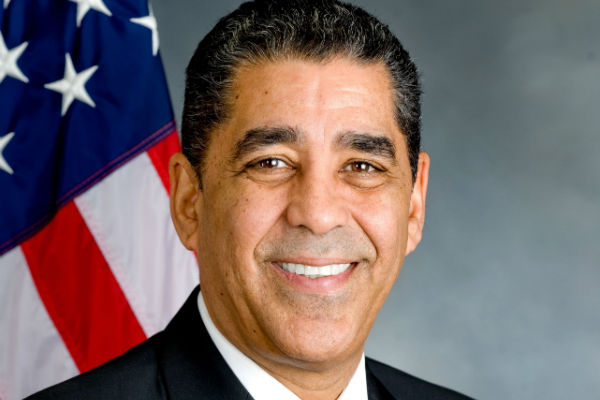 Harlem Representative Adriano Espaillat (NY-13), along with Reps. Nydia Velázquez and José E. Serrano is leading nearly 40 of his colleagues calling to enure access for non-English speakers.
Representative Espaillat calling on Vice President Mike Pence, Treasury Secretary Mnuchin, and Internal Revenue Service (IRS) Commissioner Charles P. Rettig to ensure access to vital information and forms through the Economic Impact Payments (EIP) web portal for millions of non-English speakers.
"We have heard concerns from our constituents regarding the portal's inaccessibility to non-English speakers and urge the IRS to ensure all Americans have access to this vital assistance by making all pertinent information and application forms related to the economic stimulus and recovery payments available in Spanish as well as the 18 most commonly used languages in America. Guaranteeing universal access to and understanding of EIPs is important to ensuring fair and equitable distribution of resources set aside to help Americans weather and eventually recover in the wake of the COVID-19 pandemic," said Rep. Adriano Espaillat (D-NY).
"This pandemic is disproportionately affecting vulnerable communities like low-income families, people of color, immigrants and others. We need federal relief resources to reach as many people as possible. Making Economic Impact Payment information available to non-English speakers will help ensure a fairer and more just distribution of these funds. We cannot afford to leave behind any of our neighbors who are struggling through these twin public health and economic crises," said Rep. Nydia M. Velázquez (D-NY).
"In this critical moment, everyone should be able to access and understand the information available on federal relief efforts in response to COVID-19. Millions who have limited English proficiency, including many of my constituents, are eligible to receive a direct payment from the IRS, yet the Economic Impact Payments (EIP) web portal is only available in English. I urge the Administration to make the website and the forms in it widely available to millions that don't speak English fluently by translating and making them available in Spanish and the 18 other most commonly spoken languages in the U.S. We need to ensure these resources are distributed fairly and that all communities can access the help they desperately need," said Rep. Jose E. Serrano (D-NY).
"In the best of times Latinos remain one of the most vulnerable populations in America due in part, to language barriers for significant portions of our community. Throwing a pandemic and economic recession into the mix only exacerbates these systemic issues" said Arturo Vargas, Chief Executive Officer of the National Association of Latino Elected and Appointed Officials (NALEO) Educational Fund. "While millions of Latinos are eligible for desperately needed economic relief payments, many of them will be unable to access the Economic Impact Payments (EIP) portal, as it is inaccessible for anyone who does not speak English. NALEO Educational Fund stands with Members of Congress led by Rep. Espaillat and Rep. Serrano in calling on Vice President Pence, Treasury Secretary Mnuchin, and IRS Commissioner Rettig to allow fair and equitable access to the EIP portal for all non-English speakers."
Click here to read the letter led by Rep. Espaillat and signed by more than 40 members of Congress.
First elected to Congress in 2016, Rep. Adriano Espaillat is serving his second term in Congress where he serves as a member of the influential U.S. House Foreign Affairs Committee, the House Committee on Transportation and Infrastructure, and the House Small Business Committee.  He serves as a Senior Whip of the House Democratic Caucus and is a member of the Congressional Hispanic Caucus (CHC) where he also serves in a leadership role as CHC Whip. He is also chairman of the CHC Task Force for Transportation, Infrastructure and Housing. Rep. Espaillat's Congressional District includes Harlem, East Harlem, northern Manhattan and the north-west Bronx.  To find out more about Rep. Espaillat, visit online at https://espaillat.house.gov/.
Spanish
El congresista Adriano Espaillat (NY-13), junto con los congresistas Nydia Velázquez y José E. Serrano lideraron a casi 40 de sus colegas en un llamado al vicepresidente Mike Pence, al secretario del Tesoro Mnuchin y al comisionado del Servicio de Impuestos Internos (IRS) Charles P. Rettig para que se garantice el acceso a información y formularios vitales a través del portal de internet de Pagos de Impacto Económico (EIP) para millones de personas que no hablan inglés.
"Hemos escuchado inquietudes de nuestros constituyentes con respecto a la inaccesibilidad del portal para personas que no hablan inglés e instamos al IRS a garantizar que todos los estadounidenses tengan acceso a esta asistencia vital al hacer que toda la información pertinente y los formularios de solicitud relacionados con el estímulo económico y los pagos de recuperación estén disponibles en español, así como en los 18 idiomas más utilizados en Estados Unidos. Garantizar el acceso universal y la comprensión de los EIP es importante para garantizar una distribución justa y equitativa de los recursos reservados para ayudar a los estadounidenses a resistir y eventualmente recuperarse de cara a la pandemia de COVID-19", dijo el Rep. Adriano Espaillat (D-NY).
"Esta pandemia está afectando desproporcionadamente a comunidades vulnerables como familias de bajos ingresos, personas de color, inmigrantes y otros. Necesitamos recursos de ayuda federal para llegar a la mayor cantidad de personas posible. Poner la información de Pago de Impacto Económico a disposición de personas que no hablan inglés ayudará a garantizar una distribución más razonable y justa de estos fondos. No podemos permitirnos dejar atrás a ninguno de nuestros vecinos que están pasando dificultades a lo largo de esta doble crisis de salud pública y económica", dijo la Rep. Nydia M. Velázquez (D-NY).
"En este momento crítico, todos deberían poder tener acceso y entender la información disponible sobre los esfuerzos de ayuda federal en respuesta al COVID-19. Millones que tienen un dominio limitado del inglés, incluidos muchos de mis constituyentes, son elegibles para recibir un pago directo del IRS; sin embargo, el portal de internet de Pagos de Impacto Económico (EIP) solo está disponible en inglés. Insto a la Administración a hacer que el sitio web y sus formularios estén ampliamente disponibles para millones que no hablan inglés con fluidez, traduciéndolos y haciéndolos disponibles en español y en los otros 18 idiomas más hablados en los EE.UU. Necesitamos asegurarnos de que estos recursos estén disponibles, distribuidos de manera justa y que todas las comunidades puedan tener acceso a la ayuda que necesitan desesperadamente", dijo el Rep. José E. Serrano (D-NY).
"En mejores circunstancias, los latinos siguen siendo una de las poblaciones más vulnerables en Estados Unidos debido, en parte, a las barreras del idioma para segmentos significativos de nuestra comunidad. Agregar una pandemia y una recesión económica a la mezcla solo exacerba estos problemas sistémicos", dijo Arturo Vargas, director ejecutivo del Fondo Educativo de la Asociación Nacional de Funcionarios Latinos Elegidos y Nombrados (NALEO). "Si bien millones de latinos son elegibles para pagos de ayuda económica que necesitan desesperadamente, muchos de ellos no podrán acceder al portal de Pagos de Impacto Económico (EIP), ya que es inaccesible para cualquiera que no hable inglés. El Fondo Educativo de NALEO se une a los miembros del Congreso liderados por el Rep. Espaillat y el Rep. Serrano en solicitar al vicepresidente Pence, al secretario del Tesoro Mnuchin y al comisionado del IRS Rettig que se permita un acceso justo y equitativo al portal EIP para todos los que no hablan inglés".
Haga clic aquí para leer la carta encabezada por el Rep. Espaillat y firmada por más de 40 miembros del Congreso.
Elegido por primera vez al Congreso en 2016, el congresista Adriano Espaillat está cumpliendo su segundo mandato en el Congreso, donde se desempeña como miembro del influyente Comité de Asuntos Exteriores, del Comité de Transporte e Infraestructura, y del Comité de Pequeños Negocios de la Cámara de Representantes de los Estados Unidos. Sirve como Coordinador Superior (Senior Whip) del Caucus Demócrata de la Cámara y es miembro del Caucus Hispano del Congreso (CHC) en el cual desempeña un papel de liderazgo como Coordinar (Whip) del CHC. También es presidente del Grupo de Trabajo sobre Transporte, Infraestructura y Vivienda del CHC. El Distrito Congresual del Cong. Espaillat incluye Harlem, East Harlem, el norte de Manhattan y el noroeste de El Bronx. Para obtener más información sobre el congresista Espaillat, visite la página de internet https://espaillat.house.gov/.
Preguntas de los medios: Candace Randle Person at Candace.Person@mail.house.gov
---