---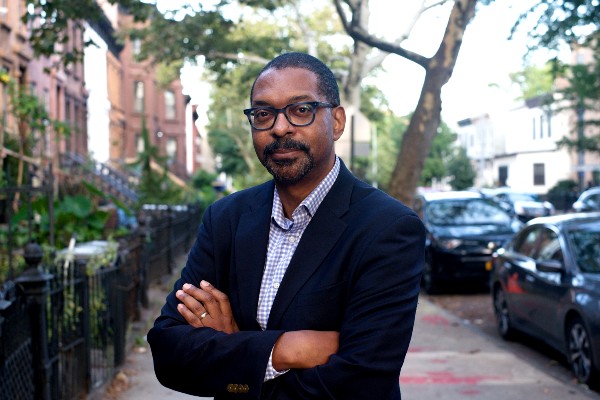 The Sugar Hill Museum of Art & Storytelling announced today that Rob Fields has been appointed as its new director. An experienced cultural leader, Fields succeeds Lauren Kelley, who stepped down in June of 2020 to pursue other opportunities after successfully leading the institution for three years. Serving as Interim Director has been Charlene Melville, Associate Executive Director of Broadway Housing Communities.
Fields, who assumed the role on September 27, envisions a thoughtful return to the core storytelling and artmaking offerings of the Museum's recent past, as well as activating the exhibition spaces through exciting visual arts and performance offerings. He also sees the Museum's potential for field-wide impact.
"Too often, the arts are seen as non-essential, and given a back seat to pressing, existential needs such as food, healthcare and housing. But because of the Museum's relationship with Broadway Housing Communities, there's this unique opportunity to show how the arts can be an equally integral component of any community-building effort," noted Fields, who was previously the president and executive director of Weeksville Heritage Center in Brooklyn. "Not only do we have the opportunity to make the Sugar Hill community even more vibrant, but we can show how—through creativity and collaboration—the arts build better citizens. And we're going to start with our youngest citizens and their families."
"Rob comes to the Sugar Hill Children's Museum of Art & Storytelling with a proven commitment of championing the role of arts and culture in underserved communities," said Neil A. Bhargava, Managing Director at Accenture and the Museum's board president. "We're thrilled that he's bringing that same energy uptown to the Sugar Hill community."
"We're excited to have Rob onboard and leading the evolution of the Museum," added Broadway Housing Communities board chair Alan Weil, Esq, a partner at Sidley Austin LLP. "Bringing the Sugar Hill Children's Museum of Art & Storytelling back online is critical to the success of this particular site, which was designed to be that shining example of how affordable housing, early childhood education and art experiences work together to enrich and develop communities."
While at Weeksville, Fields led the organization's turnaround, which prevented the venerable historic site from closing its doors permanently. His efforts culminated in its designation as the first new member of the New York City Cultural Institutions Group (CIG) in over 20 years. Along with the other 33 members of the group, Weeksville now has a permanent line item in the City's budget. He also launched Weeksville's artist-in-residence program; oversaw exhibitions featuring emerging and established artists; and launched its literary series featuring award-winning authors.
"To elevate this special museum to its next level, we were looking for a cultural activist and leader, rather than a museum executive," said Ellen Baxter, Founder and Executive Director of Broadway Housing Communities. "Rob's determination and grounded and powerful experience transforming the Weeksville Heritage Center, as well as the distinctively high regard that artists, other cultural leaders, funders and elected officials have of him presents a most promising future to realize the full potential of the Sugar Hill Children's Museum of Art & Storytelling."
The Museum's fall season opens with the dual exhibit Home/Of Nature – Cicadas on October 16. Co-curated by Charlene Melville, the Associate Executive Director of Broadway Housing Communities and former Sugar Hill Children's Museum artist-in-residence Damien Davis, the show features the work of Max Colby, Suchitra Mattai, Albert Peguero and Cecile Chong, and will be on view on Saturdays through February 19, 2022. The Museum will also present its second annual Storytelling Festival on October 16, which kicks off the weekly return of the Museum's Saturday Story Hour each Saturday through the end of the year.
Sugar Hill Children's Museum of Art & Storytelling
Sugar Hill Children's Museum of Art & Storytelling, the cultural capstone of the Sugar Hill Development designed by architect Sir David Adjaye OBE, provides our culturally rich neighborhood—home to the Harlem Renaissance—with a space where children and their families grow and learn about Sugar Hill, and about the world at large, through intergenerational dialogue with contemporary artists, art and storytelling. Designed to nurture the curiosity and creative spirit of three- to eight-year-old children, the Museum provides opportunities to grow as both author and audience, as children engage with the work of accomplished artists and storytellers, and create and share their own. The Museum is a separate 501(c)(3) organization founded by and sponsored by BHC.
https://www.sugarhillmuseum.org/
Broadway Housing Communities
Since 1983, Broadway Housing Communities has provided permanent homes for thousands of adults, children and families, high-quality early childhood programs that improve outcomes for resident and community children, and opportunities for local artists to exhibit their work and engage the community. The success of our model is rooted in community, and a commitment to ensuring that the adults, children and families we serve to receive the support they deserve to live independent, stable lives.
https://www.broadwayhousing.org/
Photo credit: By Abbie Fields.
---