---
By Stephanie Woods-McKinney
A Strange Loop-a journey of a realization of life! The life of an NYC dreamer. A gay dreamer who has thoughts of writing a musical in New York City.
A life full of realism, sexual identity, love, spirituality, and a host of other elements of finding yourself and claiming your truth!
Michael R. Jackson, winner of the 2020 Pulitzer Prize for Drama produced a play off-Broadway in 2019. Michael now brings his music to the big lights on Broadway with director Stephen Brackett! Perfect timing as the lights are back on Broadway. A creative manner to produce a musical with several inner thoughts taking you for a 'loop'. The musical is "A musical within a musical" as the writer makes that clear! This musical keeps you entertained with its catchy jingles, fraternal steps, and spiritual choir that takes you back to a good ol fashioned church service in the deep South.
Tony Nominated actor Jaquel Spivey of Raleigh North Carolina leads a creative and talented cast that includes actor L Morgan Lee who made history as the first openly transgender actor nominated for a Tony Award as well as crew: John-Andrew Morrison; Antwayn Hopper; John Michael Lyles; JM Reese; Jason Veasey Kyle Freeman and a host of other talents. Real-life narratives of a gay black- fat man who doesn't feel pretty enough for love or encouraged or supported to write a musical-but like real life-has to deal with his subconscious and his intuition while fighting his sexuality amongst self and family-somewhat typical, but well done.
Related: Check out the Rudy's World: "A Strange Loop," With Fabulous Tony Award Winner At Sardis in NY.
The musical entertains but stays authentic to the storyline-"A gay-black man" with thoughts entertained and realized only by a young white girl in the big city. The acting reminds you of "old Broadway" with new twists of queer gay sex and gay pains-all of the makings of a black man trying to change his circumstances with a "day-to-day" job as usher-with thoughts and inner demons of writing a musical. Not leaving gay sexual intercourse to the imagination-A Strange Loop gives it to you real-and If you're not about that life, you will be given a glimpse of it all. Somehow A Strange Loop may not be all that 'Strange' after all, but the loop entertains.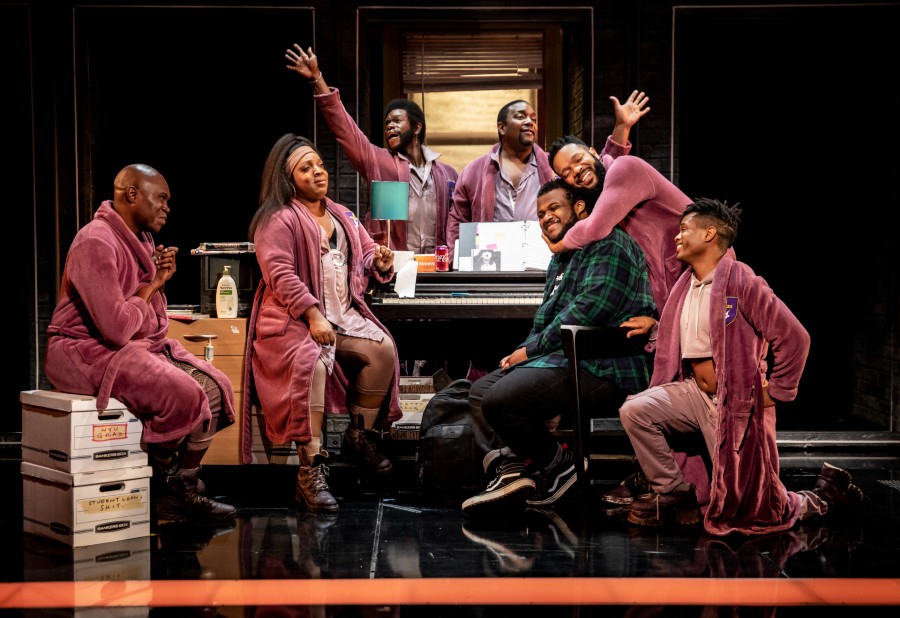 Stephanie Woods-McKinney
Stephanie Woods-McKinney is a Bronx native who graduated Magna Cum Laude from The College of New Rochelle with a Bachelor of Arts Degree in Liberal Arts. She is a vocal community activist who sits on Community Board #10 in the Bronx; is a Co-chair of the Youth & Education Committee and holds a deep love for Hip Hop culture and community activism.
Stephanie writes throughout NYC, and Harlem, she has also received countless awards and letters of recognition for her hip-hop photojournalism and a 'Citation of Merit' from Eric Adams. https://www.linkedin.com/in/stephanie-w-2637a229/
Photo Credit: 1-2) By Marc J. Franklin
---