---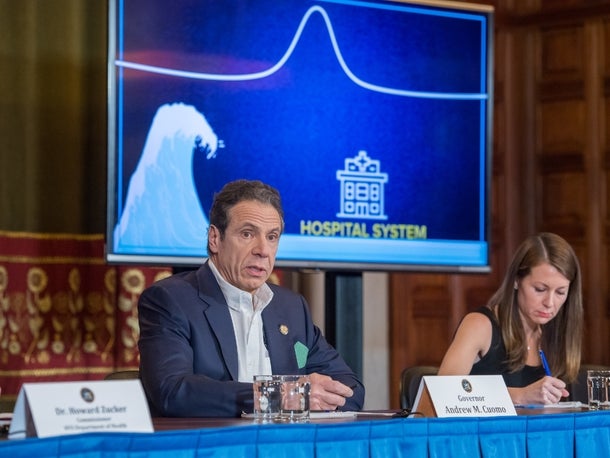 New York will go under a stay-in-place order after Gov. Andrew Cuomo issues an executive order that goes into effect Sunday.
"We're going to take it to the ultimate step," Cuomo said Friday. "We're going to close the [density] valve."
He denied it was "shelter-in-place," but the rules are similar to an order that was initially called that put in place in San Francisco limiting outdoor activity to the essentials: grocery shopping, getting medication and exercise and pet walking, for example. California later changed the name to "stay-at-home."
"Words matter," Cuomo said. "The quote-unquote policy was never shelter-in-place."
Instead, New Yorkers will be told to PAUSE.
Under the policy, only essential businesses — health care workers, food suppliers, pharmacies, utilities — can have commuting workers, Cuomo said.
Essential services allowed to remain open will include grocery stores, pharmacies, restaurants for takeout orders, banks, public transit and internet service providers, which will increase data capacity at no charge to accommodate people working from home.
"We have to do it," said Cuomo. "Everyone has personal liberty. But everyone has a responsibility to everyone else."
Seniors over 70 face the most strict rules which keep them indoors.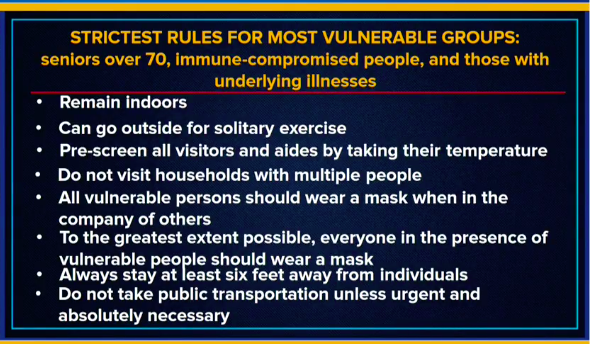 "The number one opportunity is to flatten the curve. The best way to do that is by controlling density," said Cuomo.
Non-vulnerable populations are ordered to cancel gatherings, keep six feet away from others and sick New Yorkers must stay home.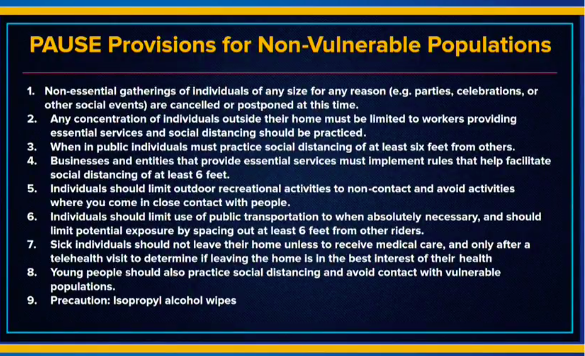 New York law officials will enforce the order with civil fines for businesses and citizens told to return home.
"This is not voluntary, it's not helpful hints." Cuomo said. "There can be mandatory closures for businesses that don't comply."
New Jersey and Connecticut may issue similar "pause" orders later Friday, Cuomo said.
De Blasio, who called New York City the epicenter of the COVID-19 crisis, ordered 250,000 city workers to begin working remotely on Friday, among them the staff of the now closed marriage bureau.
The number of COVID-19 cases in New York City reached 4,408 with 1,939 newly positive, Cuomo said. There were 7,102 in the state.
---