---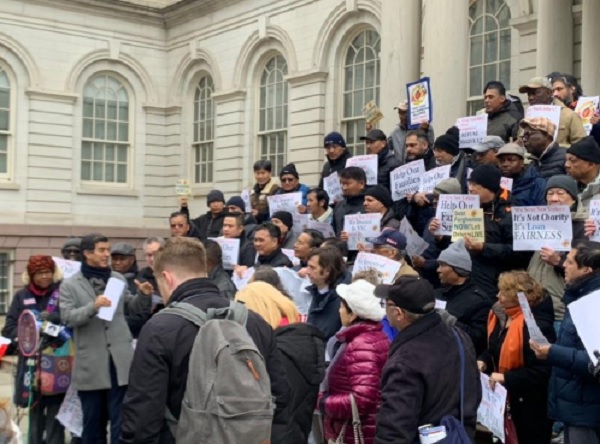 Uptown Council Member Ydanis Rodriguez Statement:
Today, January 31st, I stood alongside Co-Chair of the Taxi Medallion Task Force, Council Member Stephen Levin, 
Executive Director of the New York Taxi Workers Alliance, Bhairavi Desai, and Taxi Medallion drivers to discuss some of the recommendations published in the Taxi Medallion Task Force Report. The Task Force brought together a group of individuals with varying degrees of expertise and experience related to the Taxi industry and City entities. The objective of the task force was to evaluate the changes in the Medallion economy by analyzing the sector and to provide recommendations to address its crisis.
I want to again thank Speaker Johnson for his support in ensuring the passage of the Task Force bill and for assembling a great group of professionals, advocates, and drivers to volunteer their time and expertise to analyze the industry and come up with recommendations to address this crisis and end it. My thanks also go to Council Member Levin for all his work in Co-Chairing this Task Force and to Bhairavi Desai, Co-founder and Executive Director of the New York Taxi Workers Alliance.
We made a priority of helping Medallion drivers and owners to compete in the marketplace and remain a viable and thriving industry. I have and will always support the Yellow Taxi Medallion owners and drivers. They are hardworking immigrant New Yorkers who represent a staple of our City. I have also always supported our Livery drivers and bases. As Chairman of the Transportation Committee, I have been and remain committed to protecting the rights of all taxi drivers in all sectors. Today is the start of the end for the crisis affecting Medallion owners and drivers. We must take action on these recommendations, NOW.
Live Twitter Video: HERE
Taxi Medallion Task Force
Photo credit: Council Member Rodriguez 
---