---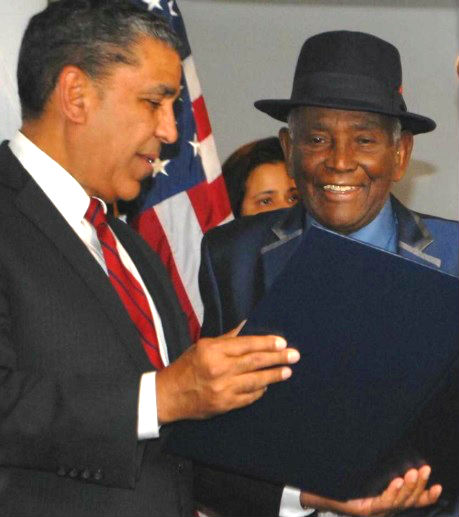 Today, Congressman Adriano Espaillat issued the following statement on the death of Joseíto Mateo, known as the King of Merengue.
"I am deeply saddened by news of the passing of Joseíto Mateo, fondly known throughout the Dominican Republic as the King of Merengue. Joseíto Mateo was recognized around the world for his extraordinary talents and as a pillar of Quisqueya and the pride of all Dominicans," said Congressman Espaillat. "In 2004, Joseíto was recognized by the Latin Grammy Awards for his innovative style and was presented 'EL SOBERANO', the most prestigious artistic award in the Dominican Republic.
"I was proud to honor Joseíto with a Proclamation on behalf of the U.S. House of Representatives last year in recognition of his extraordinary contributions to the Dominican Merengue. It was a beautiful and emotional tribute. At 98 years old, he continued to dance and sing, and reaffirmed his promise that he would only retire from singing upon his last days of life. We will miss Joseíto Mateo greatly and offer our heartfelt prayers and condolences to his family as we celebrate his life and the contributions he made to our society and culture around the world."
En Spanish
El congresista Adriano Espaillat (NY-13) emitió la siguiente declaración sobre el sentido fallecimiento del merenguero dominicano Joseíto Mateo, conocido como el Rey del Merengue.
"Lamento profundamente el fallecimiento de Joseíto Mateo, declarado por el Congreso de la República Dominicana como el Rey del Merengue, y uno de los pilares de este ritmo autóctono de Quisqueya, quien paseó sus extraordinarias dotes de artista por todo el mundo, para orgullo de todos los dominicanos", dijo el congresista Espaillat. "Joseíto Mateo, en 2004, recibió 'EL SOBERANO', el premio artístico más prestigioso en la República Dominicana. Su estilo innovador se caracterizó por una participación en escena enriquecida por su particular forma de bailar y cantar. En el año 2010 recibió el Premio a la Excelencia Musical de los Grammy Latino, y fue uno de los referentes fundamentales de la música popular dominicana.
"El pasado diciembre de 2017, en mi calidad de congresista de los Estados Unidos, le rendimos un emotivo tributo entregándole una Proclama a nombre de la Cámara de Representantes, en reconocimiento a sus extraordinarios aportes al merengue dominicano. Recuerdo que Joseíto Mateo, que a la bonita edad de 98 años aún bailaba y cantaba, recibió la Proclama con gran emoción, y reafirmó su promesa de que solo se retiraría del canto el día en que la muerte se lo llevara. Paz a sus restos y vayan mis oraciones y pésame a su familia".
Related Articles
---