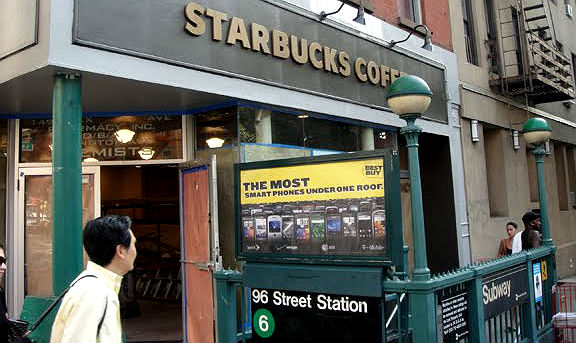 NY Eatery reports that Starbucks is trying to get New Yorkers hooked on its specialty coffee line, Reserve. A Starbucks Reserve recently opened in a massive, subterranean gallery space in Chelsea, and coming to the Meatpacking District with "tasting room", a restaurant, cafe, and lounge, becoming one of the biggest locations in the world.
Starbucks has been branding Reserve as its more upscale option, touting its single-origin and selling it alongside pricey hand grinders and other coffee equipment. The company touts the rareness of the beans, and stores that serve it often use the chain's expensive Clover brewing system. At the Chelsea location, coffee made with Starbucks' Clover Brewing System start at $3.50 for a 12 ounce cup and go up to $6 for a 15 ounce cup, and according to Eater's Robert Sietsema, who visited recently. Typical Starbucks fare like Frappuccinos are not emphasized. It's clearly meant to compete with more serious coffee bars like Blue Bottle or Toby's Estate, he says.
Fifty of Manhattan's more than 200 locations sell the pricier Reserve brews, but with a new Reserve roastery, you may be seeing more of this upscale Starbucks coffee in Harlem.
Related Articles
---
VIDEO
---
"Dr. Harry Delany is a renowned Harlem born and raised surgeon, the son of the great jurist and civil rights leader, Hubert Delany...." This monthly post is made in partnership with Harlem Cultural Archives.