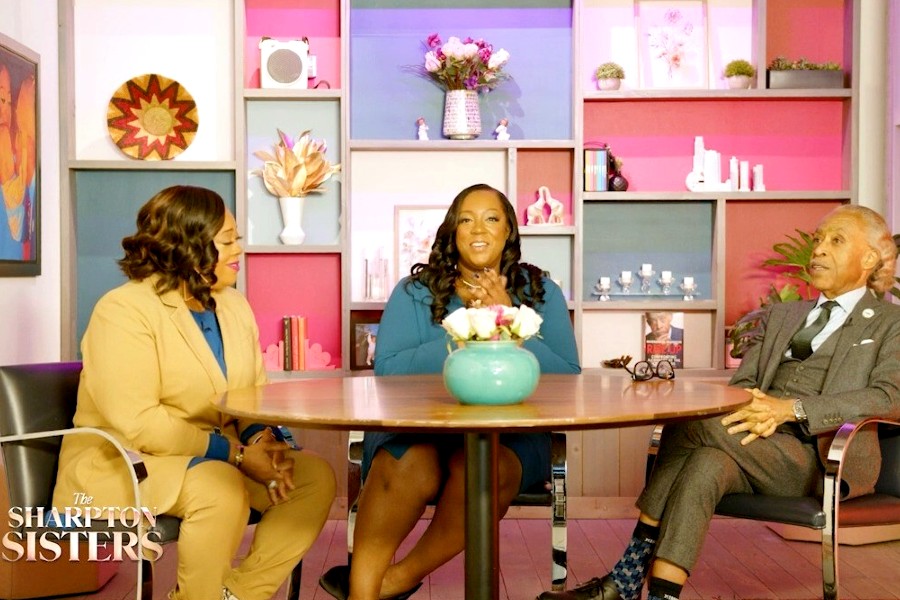 I hope you're well! Last night, Etienne and Ivy Maurice—children of Emmy-winning actress and Abbott Elementary star, Sheryl Lee Ralph—joined as guests on FOX SOUL's The Sharpton Sisters.
The siblings sat down with co-hosts Dominique and Ashley Sharpton daughters of Harlem's Rev. Al Sharpton to discuss their mother's rise to fame, their family legacy, and their community-based non-profit organization WalkGood LA.
Etienne talks about Sheryl's Success, saying that "People are just catching up. We have dreamed of this for our mother for pretty much all of our lives. So, the fact that people are just now waking up and realizing the power and the essence that is Sheryl Lee Ralph, you know, as son and daughter we are just proud." [Ivy] "…as her children, we are going to support her in every single moment moving forward… like we already have prior to her winning her Emmy."
Etienne talked about advice from mom Sheryl, "…my mom has always told me, 'be as kind as you can, for as long as you can, to as many people as you can. Because the same butt you kick today could be the one that you have to kiss tomorrow'… There were some people that weren't as kind to her at the beginning of her career, now everybody wants to pick up Sheryl Lee's phone call… People are always going to remember how people treated you and how people made you feel."
Ivy, On Her Family's Fashion Legacy "I grew up in Jamaica in my grandmother's shop, waking up at 5 o'clock every morning, learning how to cut and sew. It's really a part of who I am… to know that there is so much history in our family and that we have the power to really carry that forward—and do it in a new way because, with the millennial generation, we've got social media. The way we are able to maximize our talents is completely different compared to what our parents and grandparents have been able to do. So, I love being able to carry on this torch and say, 'hey, I'm here and I am lighting the way and not burning bridges' So I'm grateful—very, very grateful"
Etienne, discussed his non-profit, WalkGood LA "…during the time of the Black Lives Matters movement and social uprising… we started WalkGood LA… we are a family that brings people together from all walks of life to fight for racial equity through arts, health, and wellness… Now is the most important time to focus on our mental health and well-being given all the trauma we have experienced throughout our lifetime and generations. We've always been included in the conversation of fighting. But we have never been included in the conversation of healing. WalkGood is a Jamaican euphemism; it means 'take care, be good to yourself', but most importantly, 'be good to others'… WalkGood is a living, breathing homage to our Jamaican heritage and the Black lives that have been taken from us for generations… WalkGood is not a moment, it's a movement."
The Sharpton Sisters airs every Wednesday at 9 pm ET, exclusively on FOX SOUL.
The episode featuring Etienne and Ivy Maurice is available here. 
FOX SOUL is a new LIVE and interactive streaming network dedicated to the African American viewer. The programs aim to celebrate Black culture and deal with real topics that impact the everyday lives of the Black community through frank and insightful dialogue with local and national influencers.
Related Articles