---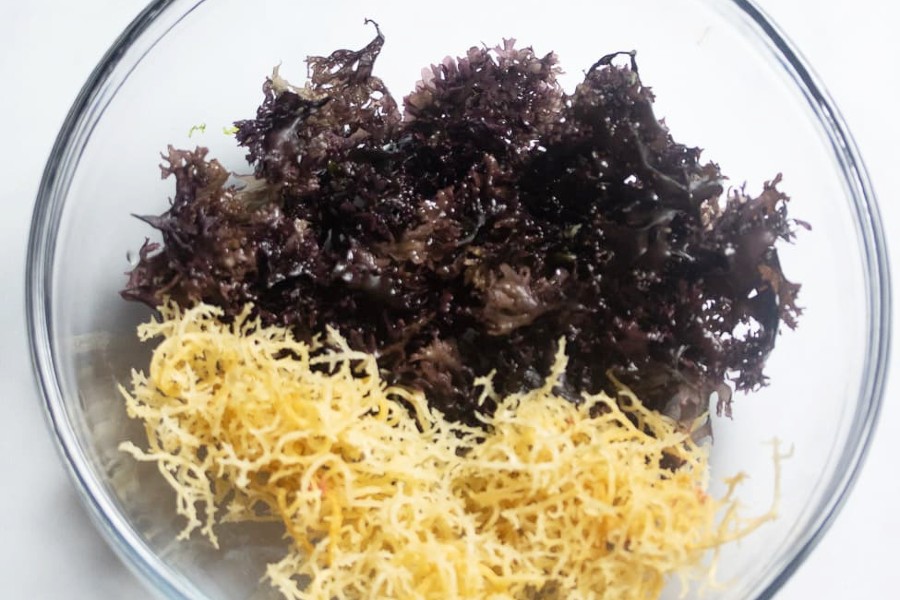 One of the most exciting parts about pursuing your best health and fitness is the wide and exciting availability of nutritious options when it comes to food.
The modern consumer has more options now than ever before when it comes to finding delicious, and highly nutritious meal options. While the industries of fast food and the culture of hustle can sometimes butt up against even the best of intentions, the satisfaction of eating healthy, delicious, and fulfilling meals is hard to beat.
If you have been wanting to incorporate a new superfood into your diet and have been curious about sea moss and it's benefits, here is everything you need to know!
What Is Sea Moss?
To start with, you are probably familiar with or have even seen sea moss at one point in your life, even if you never thought of it as a viable option for your diet. Sea moss itself is an alga that grows in the ocean and is a vital part of the marine ecosystem. Not only does it play an important part in the underwater food chain but it is also a powerful autotroph which means that it produces its own food and processes unwanted gasses just like leaves.
While life in the ocean wouldn't be sustainable without sea moss thanks to it's massive ecological importance, it also holds certain strong health benefits for humans.
How is Sea Moss Good For You?
Sea moss isn't just great for marine life but is also a robust superfood that can transform a person's regular diet. This superfood is packed with minerals and vitamins, as well as rich antioxidants and even a rich source of fiber. Sea moss is an icnredibly high source of iodine which is important for thyroid health and can be challenging to get into your normal diet.
This alga that grows in the ocean is also thought to be extremely beneficial for heart health as well as supporting a strong immune system. Sea moss is also thought to be tied to strong muscle recovery because of its taurine content which aids in the muscle-building process. Sea moss is also an excellent source of natural, non-animal-based protein. This incredible alga is also thought to help when trying to promote weight loss, due to its high fiber content.
How Do You Use Sea Moss in Your Diet?
So how do you incorporate sea moss into your diet, and is this actually something that is realistic? After all, most western diets don't lend themselves to the idea of sea moss very well, so how can this be a practical thing for you to do?
There are a couple of ways that a person can introduce seaweed into their diet, and each one has a different level of convenience. For those who are on the run and simply want the benefits with as little investment as possible, sea moss pills can be taken as strong supplements to help support a healthy body.
For those who are looking for a bit more of a challenge in the kitchen, you can purchase sea moss whole and dried and ready for your culinary arts. For those who are maybe looking for something in between, sea moss jell is a great source of sea moss that is easy to incorporate into your normal cooking dishes.
Sea moss jell is particularly useful because it can act as a thickening agent, and its taste is very easy to mask in almost any dish. This makes it great for stews or soups you want to thicken or even a pasta or casserole that requires sauce.
How Do You Know You Are Getting Good Sea Moss?
This is an important question as you don't want to settle for anything less than the best sea moss. When it comes to finding the best sea moss and getting the biggest bang for your buck, look for two particular things. First, make sure that the sea moss you are purchasing is wildcrafted, meaning it was harvested from the ocean and not from a sea moss farm.
Second, look at the location the sea moss was wildcrafted. The best sea moss will not only be wildcrafted but will come from less polluted oceans. So avoid sea moss that comes from busy ports where ships, oil, and debris might affect the sea moss with heavy metals or toxic chemicals.
Conclusion
Finding the best sea moss to incorporate into your diet isn't hard. Whether you want dried sea moss, sea moss jell, or sea moss capsules, this superfood should be part of your weekly diet. While it may seem a bit odd at first, incorporating sea moss into your weekly rhythms is something that your body will thank you for. Packed with so many important vitamins, minerals, antioxidants, fiber, and protein, you'll wonder why you haven't been using sea moss before!
---