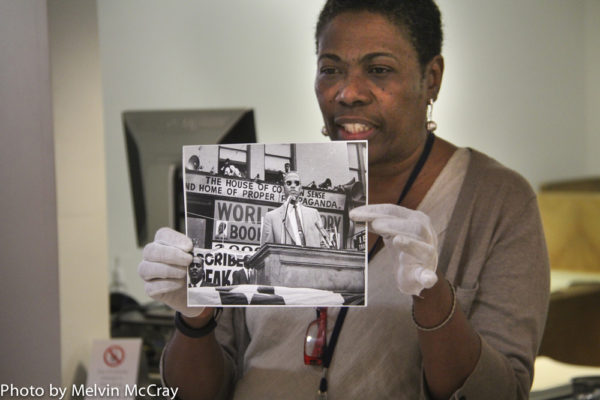 Today, Mayor de Blasio announced  that Mary Yearwood, Director of Collections and Information Services, at the Schomburg Center for Research in Black Culture has been appointed to the 15 member of the Archives, Reference and Research Advisory Board.
The Archives, Reference and Research Advisory Board, which will consult with Commissioner Pauline Toole of the Department of Records and Information Services DORIS.
DORIS has begun an extensive effort to revitalize the Municipal Archives and Municipal Library, to have these institutions serve a larger public and to help frame ongoing public policy discussions within a historical context. The revitalization efforts include digitizing holdings, making resources available online, developing exhibits to augment debates, forming partnerships with non-traditional organizations, and engaging new audiences. The Archives, Reference and Research Advisory Board will help develop and shape this revitalization by offering guidance, setting strategic goals, identifying funding sources, and connecting communities.
"It is vital that we remember the rich history of the city and that we bring available historical resources to the forefront in order to engage new audiences," said Mayor Bill de Blasio. "This group of appointees will work diligently to revitalize these resources and to display the relevance that our history has had in the formation of the city and government that we see today. We appreciate the board's efforts and I look forward to working with all of the new members."
"I am grateful to the Mayor and the new board members for their support as we work towards making the truly amazing holdings of the Archives and Library more broadly available. This is a diverse group who will help us develop and implement strategies for demonstrating the relevance and historical context of decisions made by government leaders that have affected communities throughout the City's 400-year history," said DORIS Commissioner Pauline Toole.
"I have long been a fan of the Municipal Archives and Library and I am so pleased  the Mayor has asked me to Chair the Advisory Board.  I look forward to collaborating with my distinguished colleagues in strategizing how to bring City government's historical treasures to new audiences," said Incoming Chair Joan Millman.
"I applaud the mayor and the administration for these appointments to an advisory board that will bring an array of expertise from community members and professionals who are dedicated to our rich history and institutions, and ensuring that the public has an opportunity to explore and treasure our historical resources," said Council Member Ben Kallos, Chair of the Committee on Governmental Operations.
The board members are community leaders, historians, librarians, and archivists who will aid with this transition and provide insight on evolving practices in relevant fields.
Photo credit: from the Digital Media Training Program Melvin McCray
Related Articles
---
VIDEO
---
"Dr. Harry Delany is a renowned Harlem born and raised surgeon, the son of the great jurist and civil rights leader, Hubert Delany...." This monthly post is made in partnership with Harlem Cultural Archives.