---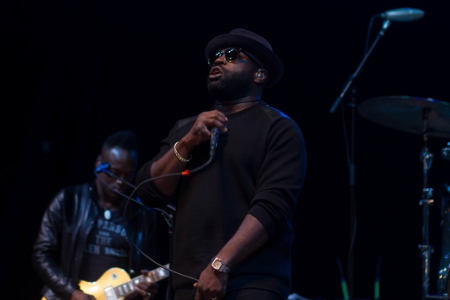 Story and photographs by Udo Salters
On Thursday, October 8th, 2015, a beautiful Autumn evening, Capital One sponsored the final Summer Stage 2015 free concert with The Roots.
Also scheduled to perform were Talib Kweli. Marsha Ambrosius and Bilal. With Capital One helping to bring this show together, the audience was made up of Capital One customers who were able to get the free tickets. Those Capital One customers definitely lucked out, because they saw a great show.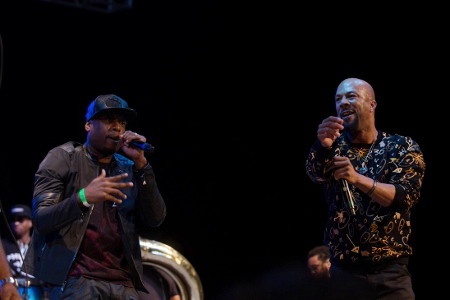 Talib started things off with a DJ set that touched a little bit of everything. Holding it down probably while the Roots were finishing their taping of the The Tonight Show with Jimmy Fallon, Talib turned things over to a Capital One rep who hit everyone with the line from the commercials "what's in your wallet?"
Once the commercial was out-of-the-way, Marsha Ambrosius was the first performer up. Marsha sang Butterflies, a song she wrote for Micheal Jackson and a couple of other songs. But it was when Marsha got the OK from the audience that she did not have to keep things PG13 that she let loose. As she gave the intro for Hope She Cheats On You (With A Basketball Player) everyone in the park knew we had reached – adult time. Ending her set with Say Yes Marsha demonstrated her vocal ability.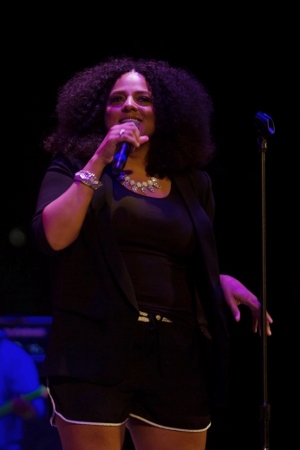 A perfect time to pick up the pace, The Roots hit the stage. Tariq aka Black Thought went right into.
Doing some Roots songs and some James Brown music. Just when you thought Talib was only going to do a DJ set, The Roots went into Act too (Love of my life). After Black Thought did a verse, Talib hit the stage freestyling a verse. But the big surprise was when the Oscar Award winning Common appearance on stage. Everyone went crazy! But the surprises were not over.
After The Roots had everyone jamming to Game Theory, they slowed things down and introduced Cee-Lo Green. This led to another audience eruption. Cee-Lo came out and sang Al Green's Love and Happiness which kept the good vibes going.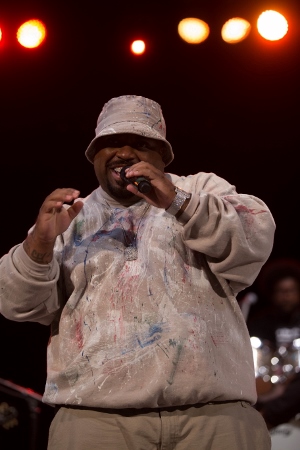 It was only a few songs later when Bilial took his turn to rock with The Roots. Towards the end of his set Bilial went into freestyle mode. He made sure before he left the stage that everyone knew Black Lives Matter.
After playing straight through with all the mentioned guests, The Roots took a break and let Sampling Artist Jeremy Ellis do his thing. Jeremy took everyone on an electronic musical journey that was out of this world.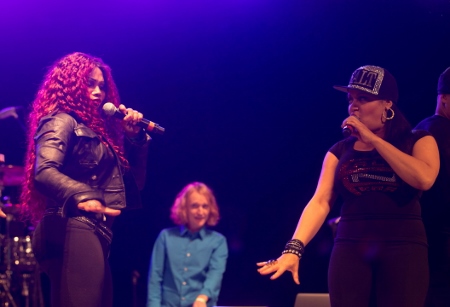 Unfortunately the show was coming to an end. The Roots took things back with Jump On It and the audience started doing the dance. Just when everyone was lost in that time period and working up a little sweat from the dance, Black Through introduced Salt-N-Peppa who came out with dancers.
Salt-N-Peppa did their very familiar song Push It. It was a great way to end a great.
Look for coming shows at www.cityparksfoundation.org/summerstage
Photo credit: 1) Black Thought of The Roots. 2) Talib Kweli and Common. 3) Marsha Ambrosius. 4 Cee Lo Green. 5) Cee Lo Green. 6) Salt-N-Pepa.
Related Articles
---