---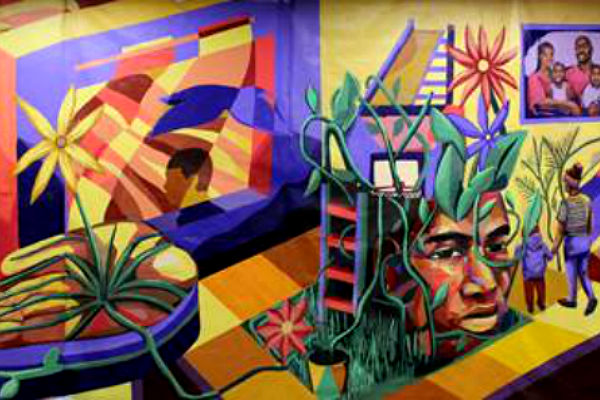 Groundswell, the Office of Council Member Ritchie Torres, and the New York City Housing Authority (NYCHA) will unveil the first two murals of a series of three at the Saint Nicholas Houses today Thursday, June 23 at 4:00 PM EST, as part of a major one-year initiative entitled "Public Art / Public Housing."
This mural was completed by Lead Artist Lead Artist Jose de Jesus Rodriguez, Assistant Artist Ashton Agbomenou, and a team of young Tompkins Houses residents.
"I have enjoyed meeting new people in my community who I have never met before. This mural project got us all together. I look forward to finishing the mural because I want Saint Nicholas to be amazed by the beautiful images of our community that'll be in the mural." – Dacota Johnson (15), youth artist on the project
Through the "Public Art / Public Housing" Initiative, Groundswell will engage a total of 200 young adult NYCHA residents ages 16-24 in the transformation of vacant walls at public housing citywide. The initiative focuses on one development in each of the five boroughs, identified from the Mayor's Action Plan (MAP) for Neighborhood Safety. The Tenants' Associations at each development are guiding the creation of three mural projects, for a total of 15 new public artworks throughout the city.
The initiative is supported with Council funds under the leadership of Council Member Ritchie Torres. Saint Nicholas Houses, 236 West 131st Street, New York, NY 10027
Related Articles
---