---
By Rober Walker
Finding and navigating work as an actor can make the difference between one who sends out a hundred photos/resumes a week.
Sending out photo/resumes out with the hopes of getting an audition in a sea of other hopefuls, to actually getting auditions, and managing the work to follow.
It can be a very daunting task where today many casting and production houses have moved into the digital age for what they require and look for with auditions.
A new era of providing "self-tapes" for auditions, to showing how active one is on social media platforms like Instagram, Twitter and Facebook, with how many "likes" and subscribers they have, is becoming just as important as having a great photo/resume or reel.
Having a professional talent manager who is genuinely vested in an artist's career is where someone like ChiChi Anyanwu can assist a performance artist to be successful in a sustainable way.
As a former talent agency assistant for a period of time, and then a talent manager for a New York firm for over eight years, ChiChi decided to launch CHI Talent Management in Harlem after seeing the kinds of help and needs artists had while seeking talent representation.
Because of the COVID-19 pandemic that shifted how the entertainment industry will conduct business moving forward, the time was right to launch her own management firm that ChiChi describes as a purposeful boutique company, allowing her the ability to help steer her artists' careers, and not just have a roster filled with talent that she would not be able to assist with the important aspects of their development.
I caught up with ChiChi recently to discuss the why now for launching her management company and it's future in this shifting landscape for entertainment and performing artists.

Q&A with ChiChi
Thank you ChiChi for taking the time out of your busy schedule to allow our readers here to hear more about you and your company, CHI Talent Management.
Robert Walker: First, I want to ask you about your name, ChiChi Anyanwu. I know that Anyanwu is of Nigerian descent, and am very intrigued by its meaning. Please share with our readers what it means, and how the meaning seems to be destiny for you, symbolically at least?
ChiChi: So CHI means God in Igbo, some interpret as the God in you. ChiChi is short for my full name Chinyere which means God's gift. I tend to go above and beyond in my personal and professional relationships. I like taking care of people. I actively encourage and empower the people around them. So, I can confidently say I'm a gift to many who know me and try to live by name.
RW: You are the founder and CEO of CHI Talent Management based in New York. Although your firm is new, you have been involved with talent representation for some time now. How did you first get involved with being a talent rep, and was that your career goal when you first graduated from college?
CC: When I graduated college I was still trying to figure out what I wanted to do. I knew I wanted to work in entertainment but wasn't sure where I fit in. I applied for dozens of internships and fellowships and the 1st person to hire me was casting director, Laura Stanczyk, at the McCarter Theatre. She hired me over the phone and I loved my experience at the McCarter as a casting intern. McCarter really introduced me to the Who who's of the black theatre industry. I met Oscar winner writer Tarell McCraney, Tony Award-winning director Kenny Leon and award-winning actor/playwright/director Ruben Santiago-Hudson. After my internship, I worked for various casting companies and independently in NY for several years. Although I enjoyed casting, I realized my true calling was developing and nurturing talent. I landed an assistant job at a small boutique that had way too many clients. Eventually, I transitioned to management.
RW: There is a distinction from being a talent manager and being a talent agent is there not? Walk us through what you as a talent manager typically do to further an actor's career along professionally?
CC: The difference between an agent and a manager can be a bit blurred these days. I earn a 10% commission on work clients book, some managers take 15%. Agents aren't able to take more than 10% legally. Similarly, to agents, I submit, pitch, and hustle to get clients in the door with casting directors.
I keep actors long-term, big-picture goals on track. I spend all day making sure the client is set up to succeed, and work with agents and lawyers to keep the progress going.
I'm more concerned with future career goals, talking through new ideas and pitches, have fewer clients, make time to talk through an idea with clients, give honest feedback on auditions and scripts, etc.
RW: Do you only represent actors, or do you also manage singers and models?
CC: Right now, mainly actors, writers, and comedians. Two of my clients are former models though, so I do submit them for a few commercial and print jobs.
RW: Does being New York-based mean you only represent talent that is geographically close to you or do you have clients around the country?
CC: I have clients all over, Spain, Taiwan, Atlanta, and California. But we are primarily New York-based.
RW: What is the criteria for CHI Talent Management for an artist who is looking for talent management, to be considered for representation. What do you look for and require from artists?
CC: I look for clients with strong acting reels, good quality headshots, and some sort of acting training. I tend to gravitate towards people who have positive energy as well and are easy to talk to. When I make the decision to bring on someone, I think about who am I excited to cheer on, work long hrs for and lose sleepover
RW: Is CHI Talent Management currently looking at new talent for rep consideration? And, how would an artist submit to your firm?
CC: I'm not actively looking for talent at the moment but happy to look at future submissions and get familiar with work. Accepting submissions via my website www.chitalentmanagement.com
RW: In your years in this business as a talent representative, how much has the industry changed with the growth of social media, and even reality television, where people have become celebrities because of large fan followings. Do you see that as a good thing, bad thing, and how much does social media factor in what you do?
CC: I love social media and its wonderful how more actors are using it now to build their brand and their audience. Sometimes I see castings that ask how many Instagram and twitter followers actors have, I didn't see that 10 yrs ago. Also, I was pitching a book to some publishers for a client and they mentioned she needed to work on growing her social media presence. It's really fascinating how much of an impact social media has on the industry these days.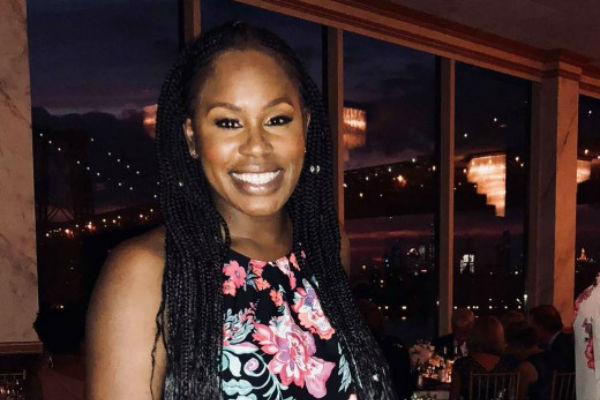 RW: What is your five-year business plan and vision for CHI Talent Management? Where do you expect to be as a business (i.e., becoming a huge firm like CAA or Paradigm)? And are there any other aspects to the business you may plan or would like to see becoming a division of CHI Talent Management?
CC: I would love to keep my roster small and have no desire to be a huge empire. I like a Mom & Pop shop feel to the business. Still authentic and approachable. I plan to have actors working actively in TV, film, and on Broadway again. I want to hire a staff of a few assistants and possibly partner up with another manager. I miss working with a team and bouncing ideas off of people. My long term dream is actually to keep my roster intimate with 5-10 successful clients and retire at 50.
RW: Speaking of social media, how can our readers follow Chi Talent Management?
CC: I am on Instagram @chitalentmgmt and twitter chi_management
RW: What is your strongest advice to a young artist trying to navigate his or her way through to becoming a professional that you have learned through your own professional journey after graduating college?
CC: Write down goals, visualize them, focus on one at a time, and formulate a plan to achieve them. Check off your list. "Just Do It!"
Thank you ChiChi. I am confident that Chi Talent Management will continue to serve your existing and future talent with the professional tools you provide to allow them to establish and maintain their dreams.
Read more Robert's World here.
Robert Walker is an award-winning writer. Robert's clients include Deborah Williams of Her Game 2; The Sickle Cell Anemia Disease Association of America; Gospel Artist, 2009 NAACP Image Award nominee, Omega Bugembe Okello, Trina Parks, Sheryl Lee Ralph, Nicole Franklin, Freda Payne, and Dr. Tommie Tonea Stewart, to name a few. He has been featured on Gospel Innovation, Harlem World Magazine and HBCU Connect. He is a recipient of the Silver Award at the World Fest Film Festival. Today, he works as a film writer/producer. https://about.me/robertprguy
---