---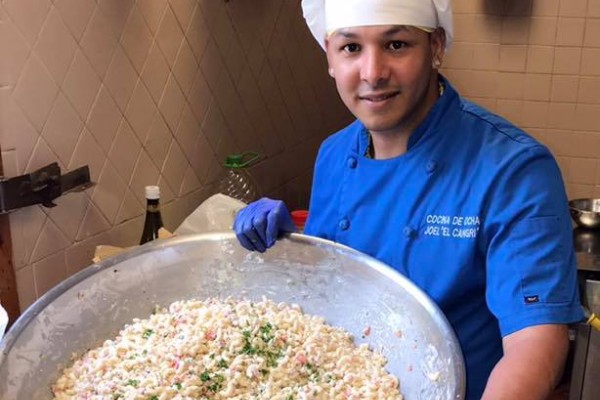 The CCCADI continues its virtual Sacred Traditions programming with Ritual Cooking for the Orishas with Alashe Joel "El Cangri" Rosado on February 22, 2021, 6 pm – 8 pm
Visit cccadi.org to view our LIVE virtual programs and engage with comments and questions through our social media platforms like Facebook Live, Youtube Live and Twitter Live! Caribbean Cultural Center African Diaspora Institute (CCCADI)'s new digital programs will be featured on our different social media platforms.
Visit www.cccadi.org and make sure to subscribe to our YouTube Channel and follow us on FB and IG for regular updates!
In the Lucumi tradition, food offerings are as important as any other offering. The alashe is a ritual chef versed in the meticulous preparation of the adimu- or sacred foods- of the orisha during initiations, rituals, and celebrations for the orisha.
Each orisha has food taboos and preferred foods that nourish and honor the orisha, their Ashé, and the practitioners who honor them.
The alashe is charged with ensuring the integrity of ritual dishes and ensuring that all appropriate food protocols are followed and that adimu are prepared precisely as dictated by tradition during religious functions.
Alashe Joel "El Cangri" Rosado will guide us through the basic rules of ritual food preparation, and teach us to prepare several adimu honoring the orisha designated as "ruling" the year in the Letra del Año during this live, interactive master class.
In recognition of the role that spirituality plays in the cultures of African people and their descendants, CCCADI respectfully weaves these spiritual elements into the fabric of its programming.
The Center presents much of its spiritually-based activities in collaboration with traditional spiritual leaders, practitioners, cultural activists, and artists that retell and pass on the stories and practices that bind African descendants into one holistic family building resilience today and into the future.
Located in East Harlem, the Caribbean Cultural Center African Diaspora Institute (CCCADI) is a nonprofit arts, culture, education, and media organization that advances cultural equity, racial and social justice for African Diaspora communities.
Each of CCCADI's programs asserts the centrality and relevance of African, African American, Afro-Caribbean, and Afro-Latino culture.
Weaving together four broad categories: Learning, Expressions, Spirituality and Exchange, CCCADI carries out its mission through advocacy, public art exhibitions, public performances, educational programs, internships, fellowships, workshops, conferences, international exchange, and collaborative partnerships.
This past Juneteenth, 2020, CCCADI launched the #ArtsGoBlack campaign to challenge the arts and culture field to actively address racial inequality.
CCCADI is most grateful for the support it has received from the following: FOUNDATIONS: Altman Foundation, American Express Foundation, The Andrew W. Mellon Foundation, Booth Ferris Foundation, Ford Foundation, Hispanic Federation, Howard Gilman Foundation, The Jacques Louis Vidal Charitable Fund, the Mosaic Network and Fund in the New York Community Trust, New York Community Trust, The Pinkerton Foundation, Rockefeller Brothers Fund, Shelley & Donald Rubin Foundation, Starry Night Fund Corporations: BronxCare Health System, Consolidated Edison, The Durst Organization, United Health Care, WarnerMedia LLC; Public: Harlem Community Development Corporation, Manhattan Borough President Gale Brewer, National Endowment for the Arts, The New York City Department of Cultural Affairs, New York City Council Member Diana Ayala, New York City Council Member Laurie Cumbo, New York City Council Member Vanessa L. Gibson, New York City Council Member Bill Perkins, New York City Council Speaker Corey Johnson, New York City Economic Development Corporation, New York State Council on the Arts, New York State
For more information, please visit: https://artsgo.black/
For additional information and to access virtual exhibitions and programs please visit: https://www.cccadi.org/
Facebook.com/CCCADI / Twitter.com/CCCADI / Instagram.com/cccadi
Photo credit: Alashe Joel "El Cangri" Rosado
---