---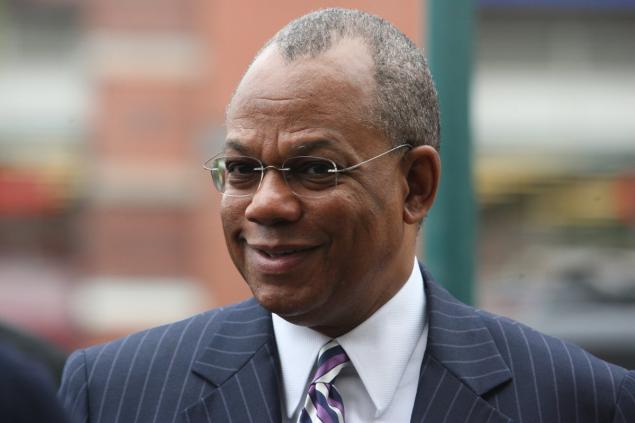 Two weeks ago, Gov. Andrew Cuomo spoke at Harlem's Abyssinian Baptist Church, where he vowed to defend immigrants from deportation and pledged to protect the rights of all New Yorkers who feel threatened by the incoming Trump administration. The governor's appearance was probably the best news in a while for the church's longtime pastor, the Rev. Calvin Butts, if only because it affirmed that he remains an important figure in the city, even after some difficult years.
Butts' church-based housing and social-services organization launched in 1989 and did much to revitalize Harlem. It now needs its own salvation.
As described in a Crain's article last year, Abyssinian Development Corp. built or renovated hundreds of affordable apartments, constructed Harlem's first public high school in 50 years, and provided services to countless children and seniors. But the nonprofit is now struggling to stay afloat, fighting with partners over money and struggling to re-imagine its mission.
Despite the tough times, Butts insisted better days are ahead. "We are moving forward," he said. "You will be hearing more about us in the coming year."
There remains much to do internally. Many donors, including the city's big banks and philanthropies, have abandoned the charity because it hasn't filed audited financial statements since 2012. For that same reason, the city last year withdrew more than $3 million worth of contracts to Abyssinian Development and reassigned Head Start and social-services programs to other agencies. Butts, who is chairman of the nonprofit, assured that his organization would soon catch up on delinquent filings.
The 2012 filing showed that Abyssinian Development was in considerable financial trouble. It had $150 million in liabilities but only $9 million in unrestricted assets, which is the money charities have to spend on their causes and their operating costs. To pare down debt, Butts has sold off large chunks of Abyssinian's $155 million real estate holdings, including the former Renaissance Ballroom to Meredith Marshall's BRP Development for $15 million, and the property that once housed the Pathmark on East 125th Street to Gary Barnett's Extell Development for $39 million.
But the $28 million sale of Ennis Francis Houses, a dilapidated 232-unit low-income-housing complex, has bogged down. The Harlem-based buyer, Carthage Real Estate Advisors, has filed a lawsuit contending Abyssinian failed to secure necessary approvals for redeveloping the site into a 332-unit complex of market-rate and affordable condos. Butts said officials at the both the city and U.S. Department of Housing and Urban Development have concerns about the transaction, adding he hopes to retain the remainder of Abyssinian's real estate portfolio to help protect residents who stuck with Harlem during the hard times from getting priced out.
The pastor also hopes to repair his relationship with Mayor Bill de Blasio, whom he has criticized for failing to fire the police officer responsible for Eric Garner's death. Butts said that if the Justice Department doesn't indict the officer before the Obama administration ends, de Blasio will need to take action. If he doesn't, Butts said, he will organize demonstrations and "die-ins" during the holiday-shopping season outside Macy's and other major retailers.
Read the entire article HERE.
---