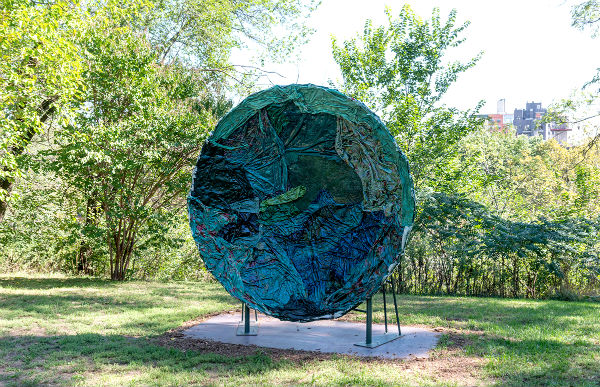 Marcus Garvey Park, like all of Harlem, is contested space. It was named for the Pan-Africanist leader in 1973, but the adjoining landmarked district retains the old name, Mount Morris Park. The park was the site of a quintessential gentrification quarrel in 2008, when residents of a new building on its edge attempted to have the long-running Saturday drum circle shut down. The drummers had to change location; a Parks Department sign indicates their current approved site in the park's northeast quadrant.
In a grassy area close to this marker, these days, sit what appear to be three African huts: round structures of dark brown clay, patterned with ridge-like ornaments and topped with thatched cone roofs. They are close to each other, as if lifted together from a village and deposited here. The largest of the three looks as if it could fit a family, seated together. Up close, however, it turns out these huts have no entrance. Sealed and sullen, they guard hermetically whatever secrets lurk inside.
The work of sculptor and installation artist Simone Leigh, the huts are one of four projects that the Studio Museum in Harlem placed in area parks, as part of "InHarlem," the museum's first-ever public art initiative. Up since late last summer, the works are on view until July 25, and with the return of warm weather, they offer a good excuse for an extended wander uptown. All four works are by recognized Black artists, and each speaks in some way to the history and community of Harlem, but also to more ineffable aspects of landscape and the spirit of place.
In Leigh's case, the title of the work tells a whole story: A particularly elaborate imba yokubikira, or kitchen house, stands locked up while its owners live in diaspora. Built in collaboration with the architect Maxwell Mutanda, the huts are modeled on those of Zimbabwe's Shona community. Leigh, who is based in Brooklyn, takes inspiration from a wide range of feminist and Black references, from African women's labor to the community health work of the Black Panther Party. Here she adds a twist to the displacement narratives that swirl in the neighborhood. The huts speak of roots and the logic of transience. Their opaque solidity makes them somehow timeless, as if they had less to do with the people nearby – men listening to classic hip-hop on a radio; children in the playground; a group in a circle on the grass, engaged in a fitness routine – than with the massive outcropping of schist that is the park's geological signature.
Across Harlem, in Morningside Park, three structures the size and shape of satellite dishes stand high up the escarpment, at the level of 113th Street. The artist Kevin Beasley intends them as signal receivers; titled Who's Afraid to Listen to Red, Black, and Green?, they are what he calls "acoustic mirrors," each in one of the colors of the Black liberation flag. (The title also references Who's Afraid of Red, Black, and Green, a series by Kerry James Marshall.) Beasley, a Studio Museum artist-in-residence in 2013-14, works with found materials. He made these sculptures out of discarded workaday clothes – house dresses, sweatshirts, t-shirts, mittens, socks – that he coated in resin and mounted, wrinkled but firm, on metal frames. Up close, the solid color of each sculpture breaks into patterns and shades: flowers on a housecoat, a paisley print, a logo, a washing tag. (When I visited, the green piece was also covered in flies.)
A sign invites passersby to "speak, sing, or otherwise project sounds" into the sculptures; in practice, this seemed to produce only minimal amplification, but perhaps the point is simply to stop and listen to the landscape. Once viewed as sketchy, Morningside Park is now increasingly sanitized, a green wedge between Columbia University above and hyper-gentrifying southwest Harlem below. On the afternoon I stopped by, members of the group Alarm Will Sound were sprinkled around the park rehearsing a performance of "Ten Thousand Birds," by contemporary classical composer John Luther Adams, while nannies with Caribbean accents shepherded blond kids. Beasley reasserts Black art and politics into this setting, even if the shmata-to-sound-system concept feels muddled.
Further up the spine of Manhattan, St. Nicholas Park hosts an elegant work by Kori Newkirk, who is based in Los Angeles but was born in the Bronx and raised in upstate New York. Titled Sentra, his installation consists of three tall metal gates that frame the lower part of one of the park's steep staircases. Across the top of each structure, about 25 feet up, hang some 40 strips of clear plastic, akin to those protecting the refrigerated section in the grocery store. The piece is a kind of outdoor, all-weather equivalent to Newkirk's work with beaded curtains (some woven with hair extensions) in which the patterns of colored beads produce intricate images, particularly those depicting the city skyline. It also echoes, inevitably, Christo and Jeanne-Claude's 2005 Central Park gates.
Read the Village Voice article here.
Related Articles
---