---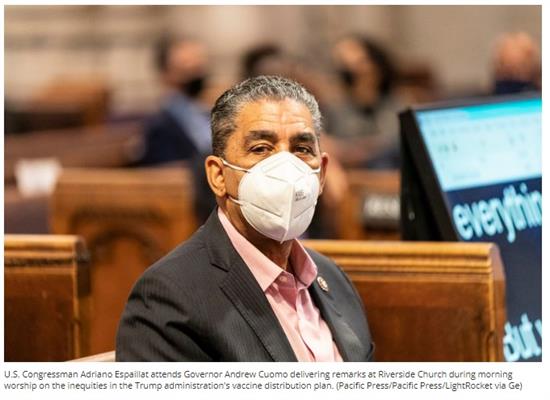 By Rep. Adriano Espaillat
In New York City and in communities throughout the United States, COVID-19 remains a very real — and a very deadly — threat.
The losses being faced by countless Americans are insurmountable, especially as we mourn the loss of more than 400,000 American lives, and livelihoods continue to be put on the line.
My district has been hit especially hard, and my heart breaks for countless of my constituents who have been directly impacted, especially those who have been forced to enter critical care at our local hospitals — many not being able to breathe, and many never leaving to see their families again.
This is an unprecedented time for our communities and the availability of COVID-19 vaccines are at the crux of how we tackle this crisis.
For so many, the Pfizer/BioNTech and Moderna vaccines present light at the end of the tunnel, a possibility to return to normal life, and the ability to survive this harrowing crisis.
And on behalf of those Americans, I remain grateful for the steadfast efforts put forth by leaders in our scientific communities who have worked to ensure all Americans have a fighting chance against this deadly virus and the ability to return to normalcy in due course.
In December, I received the first dose of the Pfizer/BioNTech COVID-19 vaccine, and then received the necessary second dose in early January. Yet on Jan. 13, 2021, I tested positive for COVID-19.
This is a hopeful story. Because the vaccine was effective, creating an antibody response to lessen the severity of symptoms associated with coronavirus, my life was saved.
I was given the opportunity to live and breathe another day, an opportunity not afforded to everyone at the hands of this heartbreaking pandemic.
As the U.S. Centers for Disease Control and Prevention (CDC) states in its guidance, the COVID-19 vaccine is just one piece of a larger puzzle, requiring us all to continue to adhere to strict guidelines to ensure the health and safety of ourselves, our families, and those around us.
Despite my best intentions and persistence in wearing a face mask, social distancing from others, and vigorous personal hygiene as recommended by the CDC and our nation's leading doctors, scientists, and public health experts, I still tested positive — and you can too.
I had the privilege and opportunity to speak with Dr. Anthony Fauci, our nation's leading infectious disease expert, after testing positive for COVID-19, and he made clear that the Pfizer/BioNTech vaccine I received was the sole reason I did not require immediate and intensive emergency care.
Absent this vaccine, my health would have rapidly deteriorated, and quite possibly, I could have faced a fatal fate.
This vaccine undoubtedly saved my life. It could save yours too. I urge you to get your shot when you are eligibile.
Fauci made clear that even with vaccines slowly becoming more available, we must not become complacent, and we must continue to do all we can to protect the health and safety of those around us — by wearing a face mask in public settings, adhering to strict social distancing guidelines and washing our hands routinely.
Only by following these steps, in tandem with vaccination, do we have a fighting chance against COVID-19.
This experience was eye-opening, and it is why I have vowed to do all I possibly can to bring more available vaccines to our neighborhoods, to get in touch with those most vulnerable in my district to help coordinate appointments, and most of all, fight to close racial equity gaps for Black, Latino, and other minority residents.
We know that our minority communities have been the hardest hit by coronavirus — from the number of lives lost, businesses forced to close, to the ongoing struggle to rebuild — and in New York, Latinos have the highest rates of infection and death among nearly all groups.
Now that vaccines have become available to eligible constituents, and after this chilling experience, my office has continued working with community partners to ensure testing and vaccination availability, and will not stop until we ensure that these resources are available and accessible to everyone — especially our most vulnerable.
I encourage each and every one of you reading this today who are eligible to receive the vaccine to do so as soon as you can. I am living proof that it saves lives — and it can save yours too.
Espaillat represents upper Manhattan and parts of the Bronx in the U.S. House of Representatives.
Representative Espaillat is the first Dominican American to serve in the U.S. House of Representatives and his congressional district includes Harlem, East Harlem, West Harlem, Hamilton Heights, Washington Heights, Inwood, Marble Hill, and the north-west Bronx.
First elected to Congress in 2016, Representative Espaillat is serving his third term in Congress. Representative Espaillat currently serves as a member of the influential U.S. House Committee on Appropriations responsible for funding the federal government's vital activities.
He is also a member of the Congressional Hispanic Caucus (CHC), where he serves as the Second Vice Chair and is a member of the Congressional Progressive Caucus, where he serves as Deputy Whip.
Representative Espaillat also currently serves as a Senior Whip of the Democratic Caucus. To find out more about Rep. Espaillat, visit online at https://espaillat.house.gov/.
Original Article Published in New York Daily, February 6, 2021.
---