---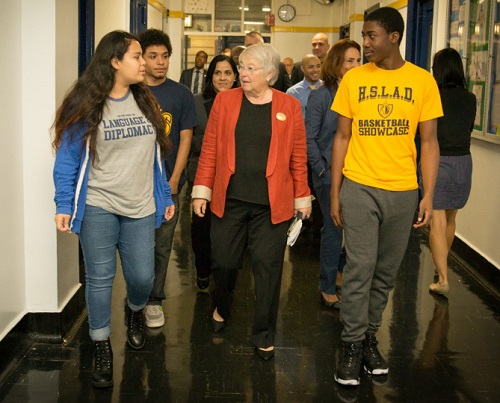 By NYC Schools Chancellor Carmen Fariña
Students learn best when there is collaboration between teachers, school staff and families. That's why I have always promoted collaboration over competition throughout my 52 years as a New York City educator. Collaboration looks different across classrooms and schools – it can be two teachers sharing best practices to strengthen lesson plans, or two principals in the same building finding ways for their students to share an advisory council or the lunchroom. Our classrooms are stronger when we collaborate, share resources and cultivate successful teaching practices.
Over the last four years, collaboration has played a critical role in improving instruction at schools across the City. Through the Showcase Program and the Learning Partners Program, educators from different schools come together to develop and strengthen approaches to teaching, identify ways to improve culture and climate, and hone ways to better serve English Language Learners.
And while collaboration across schools, districts and specialties is something I have championed, I noticed early on in my tenure as Chancellor that collaboration was lacking in some of the places where it made the most sense – our co-located campuses. There was one high school campus, Lehman, that was facing challenges. We heard from surrounding business owners and local elected officials got involved – something had to immediately change to improve the school climate on campus and in the surrounding area.
We brought the principals together and put a plan into action: Mark Rampersant, the DOE's Deputy CEO for Safety and Security, worked with the principals in the building to form partnerships between all of the schools, create a single bell schedule, form a campus-wide student advisory, combine professional development, and open advanced placement classes to all students on the campus. We saw results, including an increase in students participating in advanced placement courses and taking advantage of afterschool programs as well as a decrease in suspensions. The campus celebrated their successes by hosting the first ever campus-wide prom. Based on this progress, we expanded our work to five additional campuses in the 2016-2017 school year.
Through the Co-located Campus Initiative, we work to improve the overall culture and climate across schools on campuses, and make sure resources are shared so teachers and kids can have access to more programs and opportunities. By coming together, individual schools are sharing best practices and strengthening campus culture – and the entire community is benefiting.
Campuses in the program are strengthening their communities and increasing their capacity to effectively operate campus-wide programs that give students the additional support they need. This includes College Access Centers that provide students with hands-on guidance through the college-application process, CTE courses, mental health clinics and even food pantries. For example, the Grand Street Campus in Brooklyn has a campus-wide band class that practices and performs together and is recognized citywide. Grand Street serves as a model for schools in the Co-located Campus Initiative that are looking to leverage their campuses to strengthen arts programming.
Today, our Co-located Campus Initiative serves 138 schools and programs on 24 campuses across the City. I recently had the pleasure of visiting 10 showcase campuses, including George Washington in Manhattan, Evander Childs in the Bronx, Springfield in Queens, and Erasmus Hall in Brooklyn, and was thrilled to hear principals talk with a single voice, referring to "us," "we," and "our campus."
Our high school campuses and communities are stronger because students, educators and families are working together.
---