---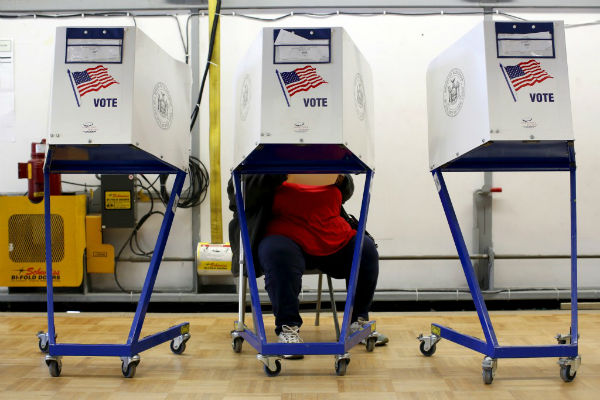 Sources report that voters from Harlem to Hollis overwhelmingly approved three amendments to the New York City Charter on Tuesday in a victory for Mayor Bill de Blasio. Proposals to lower limits on political campaign contributions, impose term limits on community boards and create a so-called Civic Engagement Commission all survived at the polls.
The latter amendment had the tighest margin, with 762,750 yes votes and 412,174 no votes with nearly 80 percent of the results in, according to unofficial results from the city Board of Elections.
The proposals were put forth by a charter revision commission de Blasio, a Democrat, empaneled this spring to focus on campaign finance and civic engagement issues. He argued they would help get money out of politics and empower people and communities who get shut out of the system as it is
"The question in front of voters in NYC was simple: are we going to be a city that works for everyone? New Yorkers answered with a resounding 'YES, YES, YES!'" the mayor said on Twitter Tuesday night.
The first proposal will bolster the city's public campaign finance program while reducing contribution limits for muncipal candidates who take public funds. The new limits will vary depending on the position, but the ceiling would fall to $2,000 from $5,100 for the three citywide offices of mayor, public advocate and comptroller.
The city currently offers a $6-to-$1 match for eligible campaign contributions, up to the first $175 per contributor. The amendment will increase that rate to $8-to-$1 for contributions up to the first $250 per contributor for citywide offices and $175 for Council and borough president candidates.
The second proposal will establish a new, 15-member Civic Engagement Commission charged with rolling out a citywide "participatory budgeting" program and supporting other civic engagement initiatives.
The third will limit members of the city's 59 local community boards to four consecutive two-year terms, with implementation staggered to avoid a big turnover at one time. Board members are appointed by borough presidents with input from City Council members.
That idea drew fire from some elected officials, who argued it would undercut a check on city government. But the mayor argued it would give more people a chance to serve in what he called "the most grassroots form of democracy."
Via source
---