---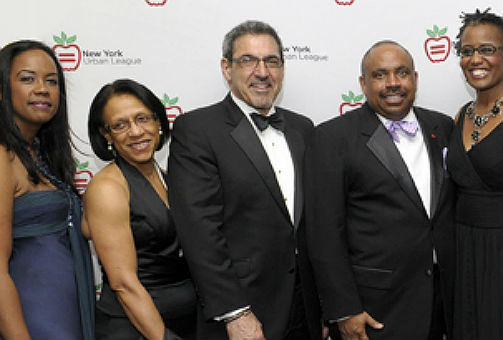 The New York Urban League is excited to announce its fall class of 2015 board members.The four new members are as follows: William Thompson- former comptroller of New York City and current Senior manager to Brandford Shank, Tawan Davis President and CIO of The Pebbles Corporation, William L. Hawthorne, III, Senior Vice-President for Diversity and Legal Affairs for Macy's Inc, and Matthew J. Middleton Counsel to Sweeney, Johnson & Scates,. Their admission to the board was made official at the New York Urban League main office located in Harlem New York by a vote of the NYUL board members on September 17th, 2015.
NYUL was able to successfully recruit capable individuals who have varied backgrounds in law, finance, real estate, and public service. Each one brings a unique ability that will enhance the capacity of the New York Urban League to fulfill its mission and serve the community.
Tawan Davis is President and CIO of the Peebles Corporation and has a long history in investment banking and finance. He has overseen billions of dollars of assets and will bring his investment knowledge for finding the right opportunities for the NYUL to pursue.
William L. Hawthorne, III is the Senior VP for Diversity and Legal affairs for Macy's. He oversees the legal judicial affairs for diversifying Macy's Inc. William's talents will help make sure NYUL has the right strategy for diversification and partnering with the organizations who share similar visions with the NYUL.
Matthew J. Middleton is Counsel to the law firm of Sweeney, Johnson & Scates and has been involved in entertainment law for over 15 years. Matthew's connections will provide the NYUL with an opportunity to partner with some of the biggest names in entertainment.
Mr. William Thompson is a current Senior manager to Brandford Shank and was the eight year comptroller for the city of New York. NYUL is pleased to have both Mr. Thompson's investment and government background working in tandem with the NYUL's goals. William Thompson has an in-depth understanding on the issues that plague our communities. He will be a solid voice for shaping the right polices for the NYUL to undertake.
Chairman of the board Bill Holiber stated that "Thanks to the work of Harlem fave, President and CEO of the NYUL Arva Rice and some of the other board members we were able to recruit a talented group of individuals who can incorporate their diverse professions in law, government, finance, and real estate to secure a solid future for the New York Urban League." The NYUL wants to thank the former members of the board for their commitment and service to the New York Urban League. We look forward to our new members contributions.
Visit www.nyul.org for additional information.
---