---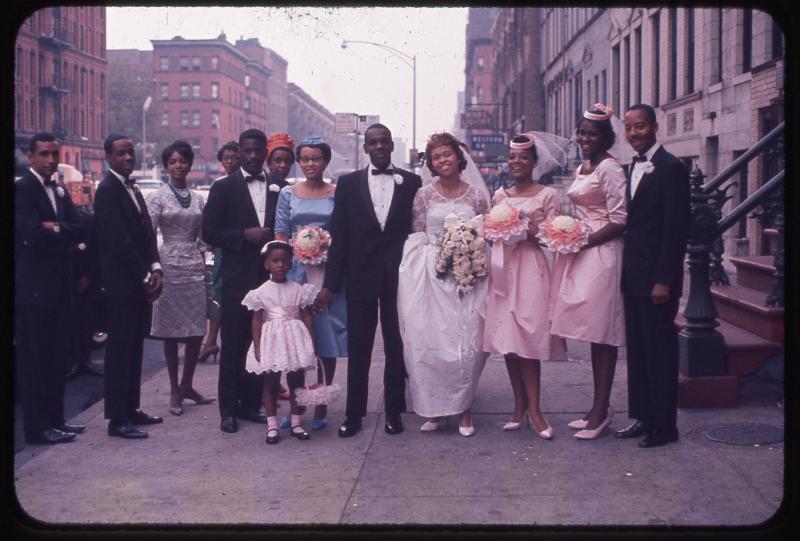 Mother, Bethel, Harlem, USA is a collaboration between artist and filmmaker Thomas Allen Harris and students from Hunter College's IMA MFA program.
Through an investigation of Harris's extensive body of work as a photographer, filmmaker, and creator of the interdisciplinary project Digital Diaspora Family Reunion (DDFR), the students have conceived works that are inspired by the family photo album, practices of archiving, and the local community in Harlem and East Harlem. Harris's own investigations of site and history began with an exploration of his personal relationship to Harlem.
On view here is a remixing of his own work with the work of his grandfather, Albert S. Johnson, Jr., an amateur photographer who spent his life documenting the First AME Church: Bethel on 132nd Street and Lenox Ave. This curatorial process has led to the resurfacing of Harris's 1987 documentation of James Baldwin's funeral and is being exhibited for the first time in the Hunter East Harlem Gallery window.
Mother, Bethel, Harlem, USA, Hunter's IMA MFA students directly respond to Harris's practice. Their projects explore personal archiving and family artifacts, the relationship between photography and memory, and stories that are deeply rooted in the local community and participation. Together, Harris and the students create a network of sites with cultural, political, and spiritual significance that generate nonlinear narratives that visitors are invited to expand upon.
Opening Reception
Thursday, Aug 30, 2018 at 6-9PM
Hunter East Harlem Gallery, 2180 3rd Ave, New York, NY 10035, https://www.facebook.com/events/234599123920558/, 
---